Authorities warn of heavy rain, high wind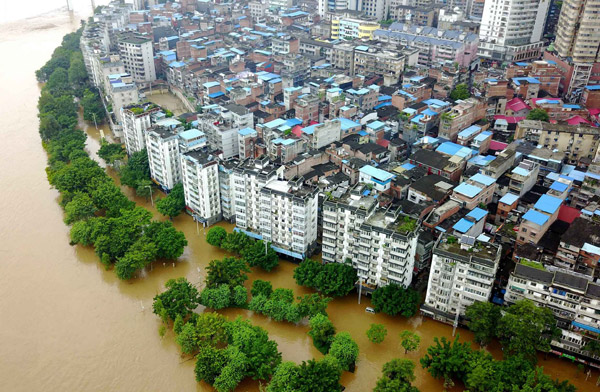 Floodwaters from the Liujiang River soak part of Liuzhou in the Guangxi Zhuang autonomous region on Tuesday. It was the third flood in the city since June 29. [Photo by Li Hanchi/For China Daily]
Heavy rain over the next 10 days may cause flooding in small and medium-size rivers in southern and northern China, and high winds could make the situation worse, according to flood control authorities.
Precipitation in parts of southern China is forecast to reach up to 150 millimeters between July 10 and 19. Northeast China will see rainfall from 50 to 100 mm, the State Flood Control and Drought Relief Headquarters said late on Monday.
"Floods happen faster in rivers in northern China, which have comparatively weak flood control facilities. It has been a problem that sometimes small rains can result in big disasters in the north," it said.
It also said many water conservancy projects along three major waterways in Northeast China, including the Heilong and Songhua rivers, are still under construction and have yet to be tested by major floods, which also increases the risks.
The recent rainfall has damaged some flood control facilities in southern China and raised most rivers there to the high water mark, leaving the region more vulnerable to flooding as a new round of rainfall approaches, the headquarters said.
At a news conference on Monday, Chen Lei, minister of water resources and deputy director of the headquarters, said a more specific plan for discharging water from reservoirs along the Yangtze River, including the Three Gorges Reservoir, will be drawn up to create space for potential floodwaters.
He also said patrols will be continued along the Yangtze, despite reduced water levels, as safety hazards may have developed in some sections of dams that have been soaked for days.
"There will obviously be stronger typhoon activity starting in mid-July. Two typhoons may come simultaneously with complex and variable moving tracks," the headquarter's statement said, adding that more consultations will be conducted with various departments so that areas likely to be affected can take precautionary measures.
While major rivers in China are generally well equipped with flood control facilities, more investment needs to be made to enhance control along the 166,000 kilometers of small and medium-size rivers, according to Zhang Xiangwei, deputy director of planning division at the Ministry of Water Resources.
Zhang told an earlier news conference that China had invested 94.7 billion yuan ($13.9 billion) from 2009 to the end of last year to enhance the flood control facilities on 55,000 km of small and medium-size rivers, which brought key sections of those rivers up to the required flood control standards.
He also said the central government had decided to invest 138 billion yuan to enhance flood control facilities on another 47,000 kilometers of rivers from 2016 to 2020, after floods last year inflicted great losses.