Li calls robots vital to productivity
Premier calls for innovative ideas so machines can be built in China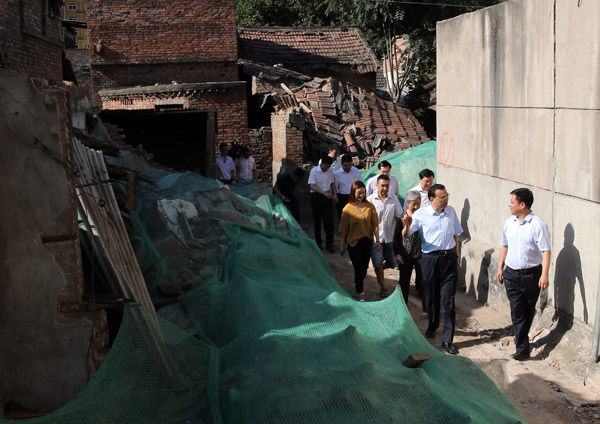 Premier Li Keqiang visits the shantytown reconstruction project in Baoji, Shaanxi province, on Tuesday. Formed in 1950s, the compound includes 156 households, and residents will be moved out soon. The stop was part of Li's visit to the region, which concluded on Tuesday. [Photo by Wu Zhiyi/China Daily]
Premier Li Keqiang called on domestic manufacturers to make China's own robots - a vital part of the Made in China 2025 strategy - with further technical and organizational innovation during his visit to Shaanxi province, which ended on Tuesday.
Equipment manufacturers should boost employees' enthusiasm and encourage them to develop new technologies for the robotics industry and to bring smart manufacturing to a higher level, Li said on Monday during a tour of Qinchuan Machine Tool & Tool Group Co, Ltd, a leading company in Baoji in the northwestern province.
Li's comment came after learning the company had developed and made industrial retarders, a key component in robots.
In the past, China had to import the components from foreign manufacturers. Li called on employees to make China's own robots with independently developed technologies.
Since Made in China 2025 was proposed in the annual Government Work Report that Li delivered in 2015, equipment manufacturing and the robotics industry have boomed in the world's second-largest economy. The stock price of Shenyang Machine Tools Co, the nation's largest machine tool maker, soared that year by six times to 42 yuan ($6.15).
Qinchuan, the third-largest company in the sector in terms of revenue, now is one of the few machine tool makers to show a profit, with a net profit of 14.9 million yuan last year. The company has kept a couple of records in Asia in high-precision machine tool making, said company Chairman Long Xingyuan.
Machine tools, which improve the quality of goods produced by their customer companies, are an essential part of equipment manufacturing, as China still has to import high-end machines for the manufacturing industry. Meanwhile, equipment manufacturing is undergoing profound changes.
Long said about 98 percent of large-scale machine tools are customized for each client. About three-fourths of his employees have built their teams to boost technological innovation and provide differentiated services to clients.
Li said traditional, standardized production no longer adapts to customized demands. Big companies should promote entrepreneurship and innovation to remain competitive, he added.
In addition to technological innovation, Qinchuan has developed a new model to serve clients by making clear how long a machine tool can earn enough profits to cover the cost, Long said.
For example, one of Qinchuan's machine tools produces wheel gears for new energy vehicles and can earn about 12,000 yuan in net income per day. Long said one such machine tool can pay for itself in about 13 months even though it sells for 4.56 million yuan.
Innovations have resulted in expanded business, as the company achieved a 31 percent increase in revenue, to 2 billion yuan, from January to May. And the company's products are exported to 15 countries, competing with German and Japanese manufacturers in the international market.