Cambodia deports 74 Chinese fraud suspects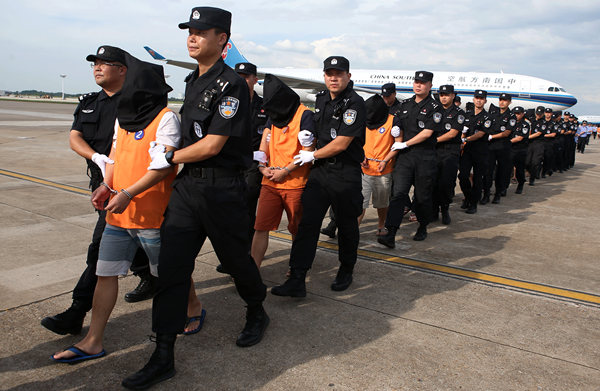 Chinese suspects arrive in Hunan province from Cambodia on Thursday. ZHANG ZHENG / FOR CHINA DAILY
PHNOM PENH — Cambodia deported 74 Chinese nationals suspected of involvement in telecom fraud, and they were taken to Hunan province on Thursday afternoon, a senior Cambodian police official said.
"The Chinese police sent a plane to pick them up after we decided to deport them," said Major General Ouk Hai Seila, chief of the investigation and procedure department at the General Department of Immigration, in an interview with Xinhua News Agency.
The deportees, including 21 women, were arrested on Saturday by Cambodian authorities in simultaneous raids on 12 locations in the capital, Phnom Penh, and Kandal and Kampot provinces, he said, adding that they would face legal action in China.
The 74 were suspected of using internet phones from Cambodia to extort money from victims in China, he said, adding that a number of phones and laptops were seized.
Seila said the raids came at the request of the Chinese embassy.
Scammers often use overseas internet servers to make scam calls to their victims, claiming to be court or police officials. They typically tell their targets that their bank accounts have been breached, so they need to transfer the money to a separate safe account, which is provided to the victim.
Xinhua