Rain disrupts public transport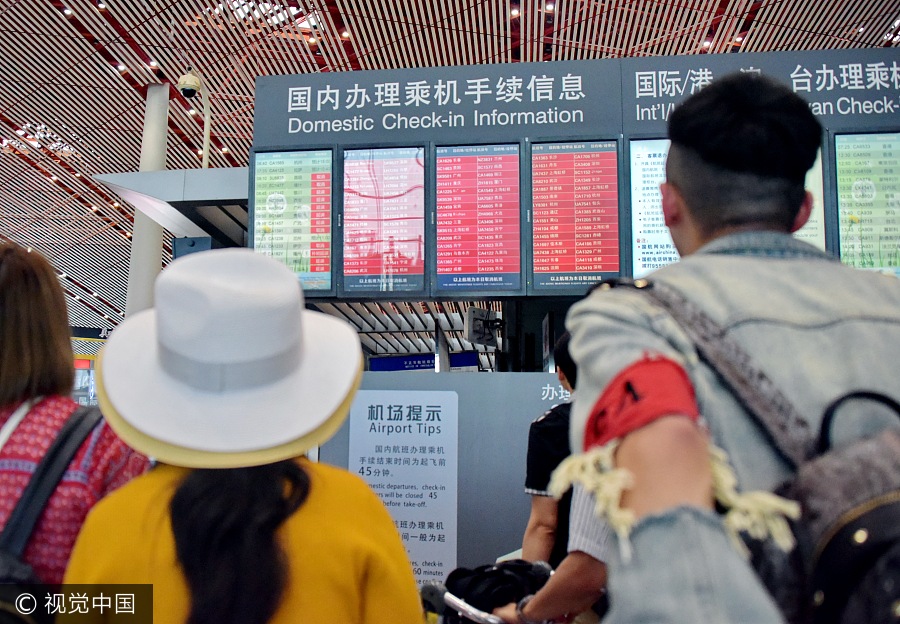 The information board is red after heavy rain forces cancelation of many flights at the Capital International Airport in Beijing on July 6, 2017. [Photo/VCG]
Heavy rainfall in Beijing and surrounding regions on Thursday severely disrupted public transport systems, with hundreds of trains and flights canceled, while rain continued to pound southern regions.
A downpour hit the capital on Thursday morning, bringing an end to a recent heat wave in northern China, and causing the cancellation of 601 flights as of 6 pm.
According to the State Flood Control and Drought Relief Headquarters, Beijing and surrounding regions, including Tianjin, Hebei, Shandong and Henan provinces, will be hit by heavy rainfall on Friday.
In the south, while the rain in Hunan, which started on June 29 and resulted in severe flooding, has stopped in most areas of the province, it continues to fall in Chongqing and Sichuan province.
The accumulated rainfall in Hunan flooded a tunnel along the Beijing-Guangzhou high-speed railway early on Thursday, leading to 150 trains being suspended or having to take detours as of 2 pm, according to the Guangzhou Railway Corp.
Some trains heading from Beijing to Changsha on the railway had to stop in Wuhan, the provincial capital of Hubei, which neighbors Hunan.
The incident left many people who were traveling from Beijing West Railway Station to Changsha stranded and having to join a queue more than 100 meters long for a taxi or line up for at least 20 minutes to enter the subway station and return home.
Some passengers complained about China Railway Corp, saying the network operator should have sent passengers a message to notify them about the suspension of services, given that when purchasing tickets via the company's online system, passengers are required to input their cellphone number.
"I was just about to step on the train when I glanced at the information board," said a passenger, surnamed Yang, who was heading to Changsha, but found out that her train could only take her to Wuhan.
"There was no broadcasting of the changes and the information board is easily missed," she added.
Zhang Yu, 47, who was traveling back home to Wuhan with her friends, was lucky enough to change her ticket for another train, but only because she had arrived three hours in advance and had time to locate the information board.
"Fortunately, we saw the cancellation notice. Otherwise, we might not have been able to go today," she said.
Contact the writers at houliqiang@chinadaily.com.cn