The conflic that changed China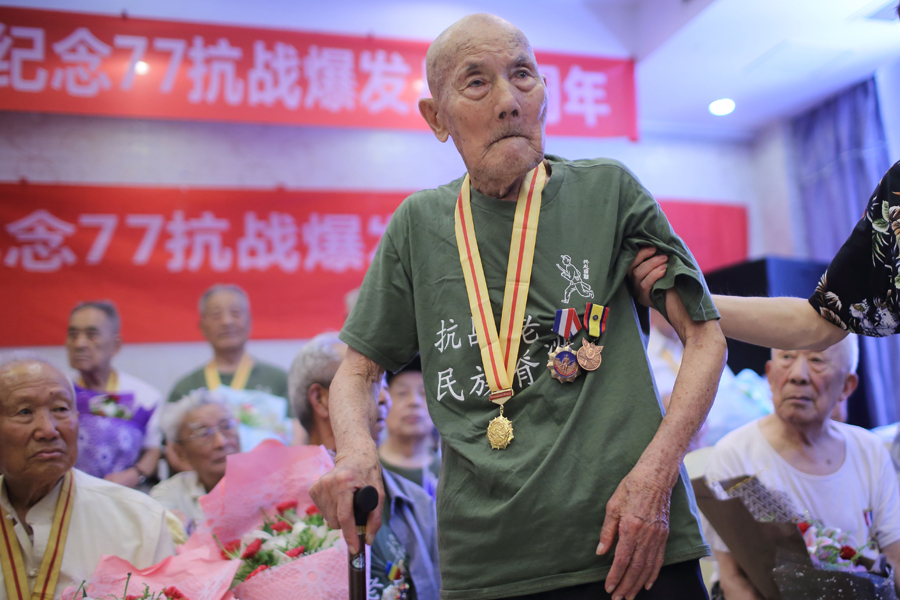 Wang Qiu, 95, and 30 other veterans gather on Thursday in Nanjing, Jiangsu province, to mark the 80th anniversary of a skirmish in Beijing that led to full-scale fighting in the War of Resistance Against Japanese Aggression (1931-45). [Photo by Yang Bo/China News Service]
"This flag I give you,
Keep it always by your side,
For it can wipe your blood while you are still alive,
And wrap your body upon your death."
Those words are from a poem in a letter written by Wang Jiantang's father on a piece of white cloth that he gave to his son as the young man left for the front lines of war in December 1937. It later served as a bandage when Wang sustained leg injuries.
Are production of the letter is now displayed in Beijing at the Museum of the War of the Chinese People's Resistance Against Japanese Aggression, one of the most protracted and bloody conflicts of World War II.
The letter is displayed alongside a section of tree trunk riddled with bullet holes and a metal helmet unearthed from beneath the city wall, a few hundred meters from the museum. Together, they tell a story of survival that started in Wanping county in south Beijing.
Today, many Chinese historians regard the event, known as the July 7 Incident, as the start of Japan's full-scale invasion of China and the country's long, and ultimately successful, fight against the invaders.
On the night of July 7, 1937, a Japanese army battalion stationed in the area, claimed one of its soldiers had gone missing, and was presumed captured, during a training exercise about 1 kilometer northwest of a citadel known as the Wanping Fortress. The Japanese also claimed to have heard gunfire, which they said must have come from within the citadel's walls.
At midnight, they demanded to be allowed to search the citadel, which housed the Wanping government.