Medical refunds give hope to impoverished rural households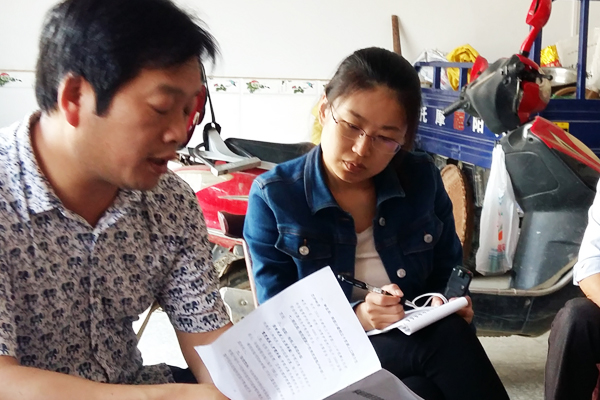 Wu Yan interviews a doctor in Macheng, Hubei province. Provided To China Daily
When I entered Zheng Liangshui's house, I could hardly believe the 50-year-old farmer has been severely ill with cancer. That was because his well-furnished three-story home, containing a tricycle-trailer, a motorcycle and electrical appliances, indicated a decent standard of living for a rural resident.
Appearances can be deceptive, though. In truth, Zheng's family, in Macheng, a city in Central China's Hubei province, is desperately poor.
The family once made a good living by running their own pig farm, but in 2014, Zheng's wife, Tao Congxiang, 49, was diagnosed with sepsis.
The family spent about 100,000 yuan ($14,700) on treatment, but the medical refund system reimbursed less than half the sum.
It never rains but it pours.
In June last year, Zheng was diagnosed with stomach cancer, which was a huge blow, both physically and financially.
The family suddenly found itself with no source of income; Zheng and Tao were too sick to work and their only child is a middle school student. To make matters worse, all the pigs had been sold to pay Tao's medical bills in 2014.
The latest round of medical expenses choked the family, which was charged 38,000 yuan for surgery to remove part of Zheng's stomach and a further 10,000 yuan for two sessions of chemotherapy.
However, under the policies in place at the time, rural patients could claim a refund of up to 75 percent of their medical fees if they were treated at county-level hospitals. The sum was reduced if they attended hospitals above that level.
That meant Zheng, who was treated at the county hospital, actually paid 20,000 yuan for the stomach operation and 2,700 yuan for the chemotherapy sessions.
Even with the refund, the cost was too much for the family to bear.
Things began to change in October, when "precision" poverty alleviation measures were introduced to ensure that every impoverished household in Huanggang, the city which oversees Macheng, has access to a new preferential medical policy.
The new policy offers impoverished families refunds of up to 90 percent of their fees in designated hospitals in Hubei. The entire fee is reimbursed if the patient is an orphan or a senior with no family support.
As a result, when he had another two sessions of chemotherapy, Zheng paid less than 1,000 yuan, about one-third the cost of previous sessions.
In addition, Zheng now only pays 10 percent of the cost of the medicine he takes every day. That means he pays 157.5 yuan for a box of tablets that provides treatment for 10 days, but the true price is 1,575 yuan. If not for the refund, Zheng would not be able to afford the tablets he will need to take for at least a year.
He is fortunate, though, because as a pioneer city, Huanggang has achieved the 90 percent reimbursement by including independent commercial insurance in the medical refund system.
According to data from the National Health and Family Planning Commission, 5.53 million households - 7.34 million people - are mired in poverty as a result of medical costs.
The central government has vowed to lift all the country's rural poor out of poverty by 2020, but some will inevitably sink back into poverty as a result of major illnesses.
Zheng's family has been struck by illness twice, but has managed to largely withstand the impact because they now only pay a fraction of the heavy medical costs.
However, their case is not unique in Huanggang. Most households classified as impoverished in the villages under its jurisdiction have at least one family member with a serious illness.
Now, the families not only enjoy a high level of medical reimbursement, but also benefit from preferential policies related to issues ranging from agricultural production to education.
The measures help families to endure tough times caused by illness, and encourage them to stand on their own feet once things improve.
Huanggang's medical reimbursement policy solves a financial problem that once affected many families, and it deserves to be expanded nationwide.
What's more important is that the high level of reimbursement and other preferential policies give hope to farmers such as Zheng and help them believe they can live longer and have an opportunity to raise their living standards.
Now his health is improving, Zheng is supporting the family by working as a driver. He believes that if the family pulls together, they can live the good life once again.
Contact the writer at wuyan@chinadaily.com.cn