Fighting poverty with resilience and hope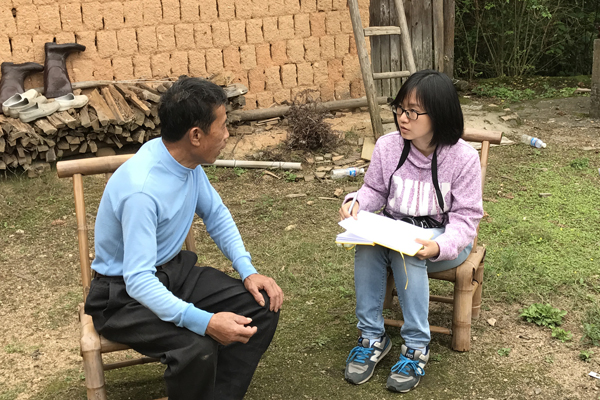 Zuo Zhuo talks with a farmer in Huichang, Jiangxi province. Provided To China Daily
After spending a month in Gufang, a village in Huichang county, Jiangxi province, I am now well acquainted with fish farming, greenhouse gardening and raising pigs - things I had no idea about before.
I made friends with a number of villagers and formed a unique bond with a kind family who accommodated me for the whole month. Even their three dogs, which tried to bite me the first day I appeared in their owner's yard, later followed me everywhere like a small troop.
Life in rural China has suddenly become so much easier for me to relate to. And the unprecedented poverty alleviation campaign taking place in the village is no longer a vague concept, but real people making real efforts and carrying out a range of measures to lead the country into an increasingly prosperous future.
What touched me most were the people, with their resilience in the face of hardships and their strong will to strive for better lives through hard work.
I interviewed Zeng Chaozhi, a 26-year-old villager. The cheerful young man smiles most of the time, so it's hard to believe he has had uremia (high levels of urea in the blood) for six years and has dialysis three times a week.
The expensive medical treatment, which has cost 1 million yuan ($147,000) to date, plunged his family into dire poverty. In 2015, the family was registered as living below the poverty line of 3,146 yuan per capita income a year and became eligible to receive financial support from the government.
Since last year, Zeng has been able to access a new health insurance program introduced by the county government to cover the entire poverty-stricken population.
As a result, his medical costs have been greatly reduced, and his family has received 303,000 yuan as a partial reimbursement of the 319,270 yuan they spent on medical fees last year.
"We couldn't have survived without the government's help," Zeng's parents kept saying during our interview.
Chronic illness has weakened Zeng's body, but strengthened his mind, making him much more mature and philosophical than his peers. He hasn't allowed his life to waste away, but has taken freelance jobs that don't require too much labor, such as working as an online purchasing agent. He is also trying to start writing stories again, something he excelled at during his school days.
I will always remember the smile he gave when he said: "I consider myself lucky. At least I still get to see the sun rise every morning."
Another person who left a deep impression on me was Zou Shirong, president of Gufang's agricultural cooperative council. Zou was a successful businessman running a shoe factory in Guangzhou, the capital of Guangdong province, before he returned home last year at the request of the village Party chief to take the helm of an agriculture reform program in the village.
At the time, Gufang was at a critical turning point in the fight against poverty. The local infrastructure was being renewed, but the village still lacked pillar industries to provide momentum and sustain growth.
Although he isn't an agricultural expert, Zou has unrivalled management experience. For his transformation of the village, he started from scratch, undertaking research with the 12-member cooperative council. Then he sketched out a workable plan to develop modern agriculture in accordance with the local conditions.
It was pioneering work that demanded courage and devotion, and Zou proved to have both. Led by him, the council members raised 5 million yuan to build greenhouses, buy seedlings and install facilities. He also obtained personal bank loans worth more than 3 million yuan.
By the time I arrived in Gufang in May, the village had taken on the look of a modern rural community, having recently developed 100 mu (6.6 hectares) of high-quality fishponds, 100 mu of greenhouses, 200 mu of vegetable fields and 300 mu of orchards.
Zou showed me around the "brandnew" village with the pride of a father showing off his son: "I like taking a stroll around the village every morning and evening. Sometimes it strikes me as incredible that it has changed so dramatically in the time since I returned."
With thousands of seedlings sprouting new buds, Zou has literally sown the seeds of hope in the formerly poverty-stricken village.
His latest plan is to make the village the "back garden" of Huichang, and attract people to visit and pick their own fruits and vegetables.
"Can you imagine what the village will be like in three or five years?" he asked.
I think he has already pictured it in his mind.
Contact the writer at zuozhuo@chinadaily.com.cn