Learning lessons about the countryside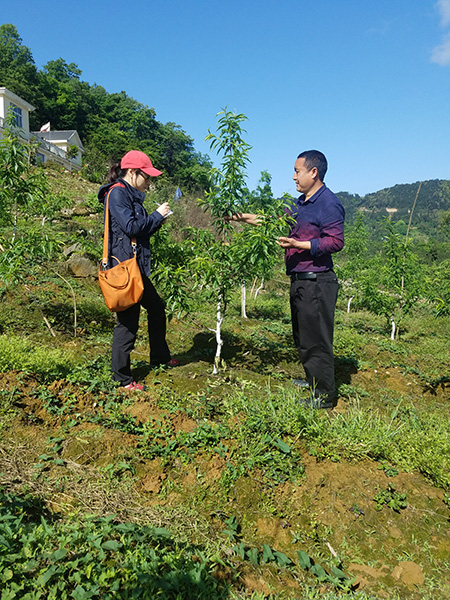 Tan Yingzi interviews a peach farmer in Fazi, Chongqing. Fu Zongjie / For China Daily
Editor's note: In the run-up to the 19th Communist Party of China National Congress, China Daily sent six reporters to live in poor villages for a month to see how China's poverty eradication plan is improving people's lives. Here are one of the first three personal accounts of life in some of the nation's poorest regions. Three more stories will be published on Thursday.
Like most Chinese born and raised in cities, I have no direct knowledge about real life in rural China.
That's a rather sad state of affairs for a journalist, because about half of China's population of 1.4 billion lives in rural areas, so issues related to agriculture, farmers and the countryside have long been major concerns.
However, thanks to my job, I was given the opportunity to spend a month in a remote mountain village on the outskirts of Chongqing, a megacity in Southwest China, learning how the residents dragged themselves out of poverty.
Fazi, a village in Huolu town in Chongqing's Wulong district, is a typical rural community. About 2,000 people are managed by a group of committee members directly elected by the villagers.
The members of the village committee work part time, and receive monthly subsidies from the local government.
To improve the committee's management skills, a public servant from Wulong has been appointed on a two-year contract as the head of poverty-relief work in the village.
After working with members of the village committee for a month, I learned many lessons.
Not every village in China has electricity, clean water or paved roads, and infrastructure construction in rural areas still requires huge investment.
The people in Fazi used to rely on one source of water - rain - and walked on dirt roads.
This year, the villagers finally gained access to modern amenities after a poverty-relief program invested about 30 million yuan ($4.4 million) to build roads and a system to supply clean water. A further 20 million yuan will be poured into road building in the coming years to aid the development of the local economy.
Role models played an important part in leading the villagers out of poverty. Poor educational backgrounds and a lack of capital have limited the development of most Chinese farmers, but the success of Fazi has shown that a local leader can boost confidence and promote advanced technologies among rural residents.
Peach farmer Shen Jianzhong spent 20 years developing a local specialty peach, which is now the villagers' main source of income.
Rural residents need better education to improve their lives, such as a good hygiene, respect for seniors and adherence to rules.
In the past, extreme poverty and poor living conditions caused many problems: seniors were abandoned by their children; neighbors fought over land and water; and young people committed crimes.
In recent years, local village committees have realized that poverty alleviation must include improving the farmers' moral standards. Fazi has organized several awards ceremonies to praise model families and villagers. The committee warns any "black sheep" or criticizes them publicly.
My month in Fazi flew by. Though it was my first long stay in the countryside, the hospitality of the villagers made me feel at home, and I enjoyed my time on the peaceful, beautiful mountain.
I promised them that I would return in the summer, when the peaches are ripe.