Rural areas enjoy green shoots of prosperity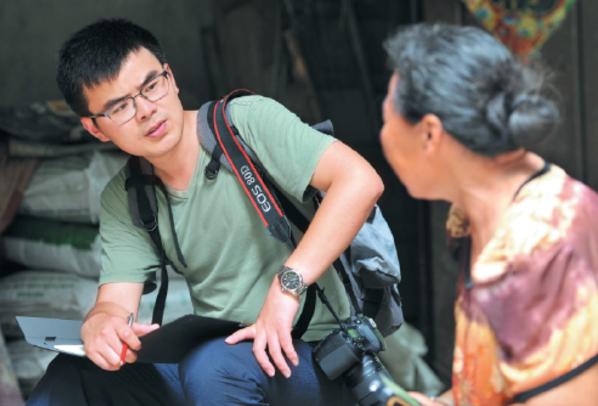 Zhu Lixin speaks with a poverty-stricken villager in Linquan county, Anhui province.Lu Qijian / For China Daily
Editor's note: In the run-up to the 19th Communist Party of China National Congress, China Daily sent six reporters to live in poor villages for a month to see how China's poverty eradication plan is improving people's lives. Here are one of the first three personal accounts of life in some of the nation's poorest regions. Three more stories will be published on Thursday.
A trip down memory lane
I spent the period between the end of April and the beginning of June in Guge village, Linquan county, Anhui province, observing the ways in which the people of this poverty-stricken place have improved living standards.
When I was going around visiting people in the village in East China, I always brought my camera. On May 9, I came across a group of primary school children on a road which was still muddy three days after the last rainfall.
I wanted to take a video to show how the children walked on the muddy road, but they repeatedly dodged the camera.
On the afternoon of May 15, I operated a camera drone which flew above the children as they returned home from school. This time they became really excited and jumped around shouting, "Come down, come down" and "Go up, go up".
In the days that followed, I saw these children several times and they treated me as if they knew me quite well. Every time they saw me with a camera, they surrounded me and asked to see the photos I had taken.
"Left-behind children" (whose parents have moved to big cities in search of work) often give the impression of being very shy, but after staying with them for some time, I found them very active and curious. "They are sometimes very naughty," was the verdict of their grandparents and teachers.
Heavy rain on May 22 left the roads in a terrible state once again. The next day, a child lost one of her waterproof boots in the mud, and I watched as she bounced back to the boot on a single bare foot.
When I asked the children if they felt tired walking on the muddy roads, they replied that they were accustomed to the situation.
I was born and raised in a village about 300 kilometers from Guhe, so the scene was reminiscent of my childhood experiences about 20 years ago. What was unexpected was that so many years have passed, but children are still experiencing the same things I went through.
A major difference between me and those children lies in the fact that my parents didn't move away for work - these kids' parents are mostly migrant workers, and the children have been left behind to bear all the difficulties alone.
One day, I saw a villager busily building a three-story house, which he said would cover about 500 square meters. He had worked in Wenzhou, a city in Zhejiang province, for several years, but sustained injuries to his left arm in an accident two years ago.
As a result, he was unable to work, so he returned to Guhe and scraped a living by growing crops. With his savings and money he borrowed from relatives, he was building the house not for his own comfort, but for his son, who is still in high school.
"He will need a house to marry a wife," he said.
I asked: "What if he passes the gaokao (the national college entrance examination)? He might never come back to the village."
"Oh, how could he?" the man said in an indifferent tone.
I was taken aback, but later when I was talking with other villagers, I discovered that quite a few parents held the same belief, the same indifference toward academic performance.
Every year, about 500,000 high school students in Anhui take the college entrance exam, and more than 80 percent are offered places to study at universities, colleges and vocational schools.
With improved living standards and the ongoing poverty-relief measures, fewer rural students drop out before finishing high school, but a large number fail to get into colleges.
One day, on the road leading from the school to the children's homes, one of the children told me, "My wheat will be ripe soon."
Instead of saying "My family's wheat", she simply said "My wheat", which I hadn't expected.
On May 31, the day before International Children's Day, I visited the Liulou primary school in Guhe, which has about 100 students.
Before I entered the school, I saw three boys dumping garbage into a dry ditch in front of the building. Ditches full of garbage are a common sight in the village.
When I asked who had told them to dump the garbage in the ditch, they told me it was their teacher. I was astonished to hear that, but for the children it was just normal behavior in an isolated, poverty-stricken community that is just beginning to come to terms with the modern world. 
Tourism begins to make a mark on the mountain