Fertile black soil to be better protected
New farming techniques to be adopted to safeguard remaining land, improve local ecology and yields
For Fan Yuesheng, using more fertilizer does not mean greater yields from his 10 hectares of farmland, where nutrient-rich black soil has been increasingly eroded as the 55-year-old in suburban Dandong, Liaoning province, struggles to ensure a livelihood.
Like many other rural areas, young people in Fan's hometown have fled to big cities looking for jobs and the neighbors left are almost all elderly. Farming is Fan's main area of expertise.
Facing a water shortage, Fan had to dig a well to pump out underground water, which has made it even more difficult to protect the preciously fertile black soil, he said. Water supplies are also being depleted.
Fan is not alone in his dilemma. The situation has challenged millions of farmers in Northeast China, according to the Guideline on Protecting Black Soil in Northeast China (2017-30), which was jointly released recently by the Ministry of Agriculture and five other ministries.
The new document sets to safeguard the remaining land with black soil while improving the local ecology and ensuring yields. By 2030, Northeast China's 16.67 million hectares of black soil will be better protected to improve fertility, ecology and farming facilities to yield greater production, the guideline said. The quality of black soil will be significantly improved while ecological settings in the region have been targeted to improve.
When the guideline is carried out, some black-soil farmland will be turned into forests, grasslands and wetlands. New farming techniques, including water conservancy projects, will be introduced to reduce consumption and keep such land even more fertile. New models of production, such as rotation between grain and bean, will also be introduced to lessen the stress on the land.
Meanwhile, large farms will be encouraged to use tractors to reduce cost and prolong fallow farmland.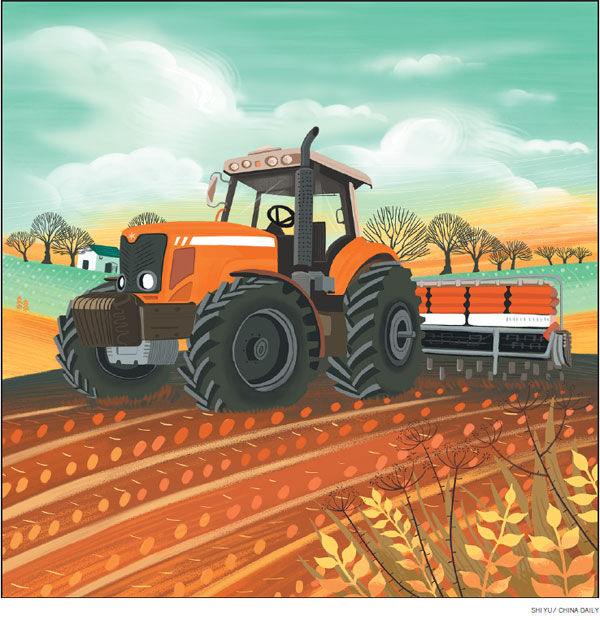 The region, including Liaoning, Jilin and Heilongjiang provinces and the eastern part of the Inner Mongolia autonomous region, produces about one quarter of China's grain yields each year. According to data from the second national survey on land in 2009, the region's black soil covers 18.53 million hectares.
Over the past few decades, black soil, which has existed for thousands of years in Northeast China, has eroded partly due to excessive reclamation, and threatens biological diversity and sustainable food production, the guideline said.
The document said the previously stable micro-ecological systems had been breached by long-term farming and overuse of fertilizers and pesticides. Meanwhile, the expansion of rice-growing in the region has drained much of the underground water.
On top of this, floods and wind have added to the rate of erosion. Over the past 60 years, organic matter dropped by more than 30 percent on average, actually down by 50 percent in some places. Fan believed the guideline will be a turning point and give him new hope if properly implemented.
"A consensus has been reached that land with black soil is now less productive, and without action, it could face even greater erosion," said Wang Daowen, a researcher at the Institute of Genetics and Developmental Biology at the Chinese Academy of Sciences.
Wang said the structure of farming in Northeast China should be adjusted to adapt to local conditions by controlling crops that consume too much water, such as rice and corn. In that way, black soil will retain its moisture and withstand wind, he said.
Meanwhile, the region should also introduce other high-yield crops, which consume less water, fertilizers and pesticides, to reduce cost and improve the quality of agricultural goods in addition to reducing chemical contamination in black soil, the researcher added.
Wang also suggested establishing an online platform for black-soil protection where farmers can share information on new agricultural technologies and more efficiently buy production materials and sell goods. The platform can help avoid repetition and waste during production and logistics, which will also be beneficial to protecting black soil, he said.
huyongqi@chinadaily.com.cn