Handcycling team tours China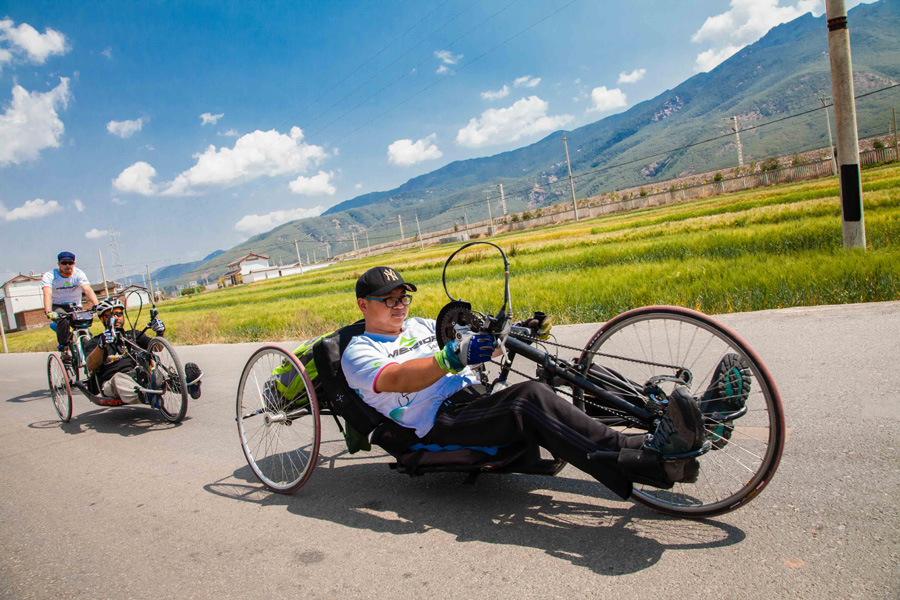 Founded by disabled athlete Domonic Corradin and long-time China resident and world traveler Joshua Dominick, Krankin'thru China is a movement to introduce the sport of handcycling to China. [Provided to chinadaily.com.cn]
A handcycling team called Krankin'thru China is currently in the midst of its tour around China which started in Xishuangbanna, Yunnan province, and will end in Beijing later this month.
Over the last three months, the team has cycled more than 5,500 kilometers through 10 provinces in China including Hunan, Jiangxi and Anhui.
"We hope to reach every corner of China in the future, and to introduce the sport of handcycling to more people with disabilities, inspiring them to lead a positive and healthy lifestyle," Joshua Dominick, a team member from the United States, told China Daily after the team arrived in Shanghai over the weekend from Ningbo, Zhejiang province.
This is not the first time Krankin'thru China has attempted such a tour. The first was from Shangri-la to Hongkong in 2015 while the other was from from Dali to Jinghong, both of which are in Yunnan province, in 2016. The distance of this year's tour is the longest they have attempted.
Some of the team members have suffered injuries during the arduous journey. Pan Yifei, a handcyclist from Beijing, said he once got seriously injured after skidding on a slippery mountain road because his brakes had failed. But despite the challenges, the team is determined to complete this year's tour.
"Although the journeys are full of challenges, we will continue to cycle with disabled individuals and organizations and help people push their own limits," said another team member named Wang Feng.
Cao Chen in Shanghai contributed to this story.