Helping elderly gain financial security
Incentives and guidelines to boost elderly endowment insurance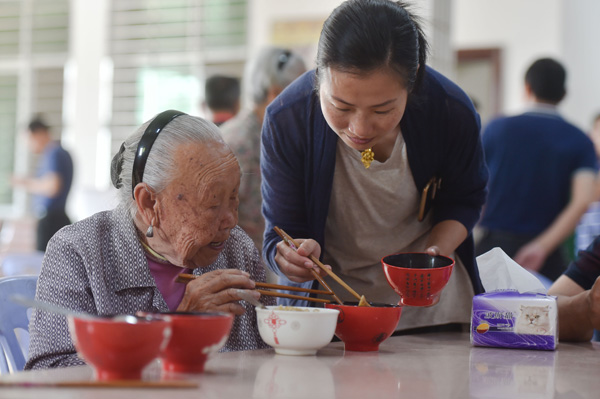 Li Zou, 95, has lunch with her granddaughter Huang Chunni in Zhuyuan village of Nan'an, Fujian province, on April 19. [Photo/Xinhua]
In old age, most people need something to rely on. For the Chinese, that's generally been family and a State pension.
Yet the central government has shown it wants the commercial endowment insurance sector to help more with ensuring the nation's seniors are financially secure in their twilight years.
The State Council unveiled an array of incentives and guidelines aimed at boosting the sector at an executive meeting presided over by Premier Li Keqiang on Wednesday.
A statement released after the meeting said China aims to build a mature and comprehensive commercial endowment insurance market by 2020, with endowment polices set to become the main form of family pension plan and a major part of social pension funds.
The government will encourage innovation in private insurance services to create tailored products for individuals and families, the statement said.
Companies selling commercial endowment insurances will get support to offer customized services to elderly customers while presenting products and services of entrepreneurial and occupational annuities. Meanwhile, other forms of such insurances will also be boosted, including those covering accidental injuries and long-term care for the elderly.
Supportive policies will be granted in this area while the government's supervision will be reinforced to safeguard the legal interests of consumers and prevent financial risks.
The State Council also decided at the meeting to test an individual tax-deferral program, which will encourage people to buy commercial endowment insurance products.
Financial security is the top priority, Huang Hong, vice-chairman of the China Insurance Regulatory Commission, said at a news briefing on Friday.
"Endowment insurance is what people rely on in old age and in times of illness," he said. "So it's important for endowment funds to have steady financial returns, and they must not face high financial risk."
Huang said the commission will introduce rules and regulations to supervise commercial endowment funds, while standards for insurers will be raised in terms of risk control and financial capability.
The commission is also ready to work with ministries to create green channels for commercial insurance funds to participate in national strategies and livelihood projects, support the real economy and ensure insurance funds see steady returns, Huang added.
Commercial insurance only began to take shape in China in the 1990s, relatively late compared with the United States and many countries in Europe.
As a result, Huang said China has a severe shortage of professionals in endowment product design, especially top-tier actuaries.
"Well-designed endowment products need to take a number of variations into account - such as economic cycles and changes in life expectation - and create a proper balance," he said, adding that colleges and universities should train more actuaries.
Over the years, China's pension system has had three pillars, namely basic endowment insurance, enterprise annuity and personal commercial endowment insurance. However, Huang said, the pillars are not well balanced due to a variety of reasons.
Basic endowment insurance, for instance, makes up the majority of policies and is regarded as the key form of pension plan for the elderly. Yet it provides only basic subsistence.
Individual commercial endowment insurance accounts for a smaller percentage and has been slow to develop compared with some other countries, Huang added.
A senior manager at Foresea Life Insurance, who asked to be identified only as Qian, said the idea of buying commercial endowment products is still new to Chinese, and many do not believe they need it.
However, as the Chinese population has grown older in recent years, the number of commercial insurance products on offer has proved insufficient, he added.
It is estimated that the population above 60 years old in China will reach 255 million in 2020.
Zheng Bingwen, a professor of social security funds with the Chinese Academy of Social Sciences, said he expects the tax-deferral pilot to boost interest among individuals.
"The government needs to work out clear incentives, so that insurance groups can get hands-on with their product design and clients can see the potential benefits," he said.