An invitation into the unknown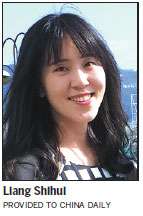 Liang Shihui made her first trip to Hong Kong during the May Day holiday. In fact, it was the first trip outside the Chinese mainland for the 26-year-old native of Taiyuan, the capital of Shanxi province.
A friend who lives in the city invited her to stay, so Liang spent four days exploring popular tourist haunts such as Causeway Bay, Central and Tsim Sha Tsui.
However, she was most impressed by Kennedy Town, which was previously a backwater but is now becoming one of the city's residential hotspots. As she walked around the condos and villas, Liang felt herself falling in love with the district in the west of Hong Kong Island because its slower pace and relatively small number of people struck her as different from the rest of the city.
Like many visitors to Hong Kong, Liang spent a lot of time shopping in Causeway Bay and Tsim Sha Tsui, buying various cosmetics for herself and friends, but she was also impressed by Central, the financial district.
"Seeing the people in Central gave me the feeling that the area is so much more than I had ever imagined," said Liang, who majored in accountancy. She felt all financial students should visit the area to experience its vibrancy for themselves.
During her trip, Liang was joined by her mother, who was also undertaking her first trip outside the Chinese mainland. The visit made her a minor celebrity in the eyes of her friends and neighbors.
"Mom almost became a star in our community when she returned from Hong Kong and told her friends about her experiences," Liang said.
Xin Wen contributed to this story.