City tourism chiefs look for greater sustainability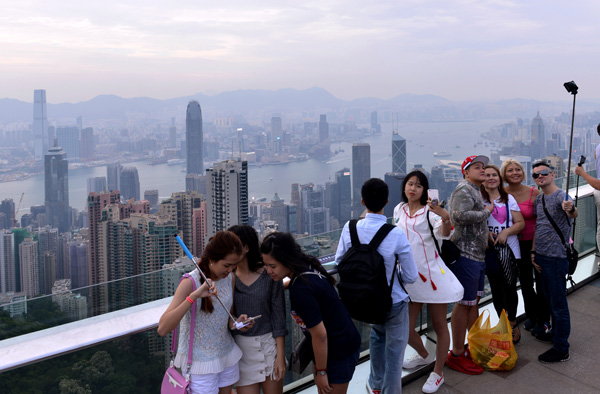 Visitors take selfies at Victoria Peak, using the harbor as a backdrop.[Photo by Yuan Shuiling/For China Daily]
Authorities considering ways to boost tourist numbers and help the industry overcome a downturn in visitor arrivals, as Oswald Chan and Luis Liu report from Hong Kong.
In the past 20 years, tourism has emerged as the fastest-growing pillar of Hong Kong's economy, boosted by a rise in the number of visitors from the Chinese mainland.
However, having seen a recent fall in visitor numbers, the city has little room for complacency. Looking forward, the industry envisions a trajectory of balanced, healthy and long-term growth through diversified tourism products and sources of visitors.
Last year, the number of mainland tourists to Hong Kong ballooned to 42.77 million, roughly 18 times higher than the 2.36 million recorded in 1997, according to statistics released by the Hong Kong Tourism Board. Mainland visitors now account for about 76 percent of all tourists to Hong Kong.
The watershed occurred in January 2002, when the quota imposed by the Hong Kong Tour Group Scheme for Mainland Visitors was abolished by the central government.
Since July 2003, the Individual Visit Scheme, which allows residents of designated mainland cities to visit Hong Kong as independent travelers without joining group tours, has been gradually extended and now covers 49 mainland cities. The program was introduced to revive Hong Kong's economy, which had been battered by an outbreak of SARS.
In recent years, the explosive growth in the number of tourists from the mainland following the launch and progressive extension of the Individual Visit Scheme has seen the tourism sector become the fastest-growing component of the city's GDP.
Tourism is Hong Kong's smallest GDP pillar, but it outperformed the others - trading and logistics, financial services, and professional and producer services - growing 161 percent between 2002 and 2012, according to research released by the Legislative Council Secretariat in February 2015. The report showed that the number of people employed in the sector rose by 76 percent between 2002 and 2012.
In 2002, tourism accounted for 2.9 percent of the city's GDP in terms of added value, but the proportion almost doubled to 5 percent in 2015, according to Hong Kong's Census and Statistics Department.
Travel was also the largest component of the city's exports of services, accounting for 34.6 percent of the total value in 2015, while net travel exports contributed HK$101.5 billion (88.77 billion yuan) to the city's invisible trade surplus in the same year, according to the department.