Heavy fines included in draft law to protect nation's soil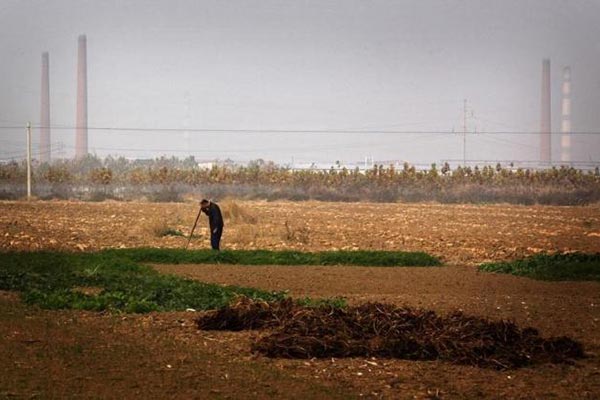 A farmer leans on his shovel as he takes a break from turning soil to plant crops in the town of Tianying, Anhui province, Nov 19, 2012.[Photo/Agencies]
A draft law announced on Thursday promises funds and a basket of comprehensive measures to reduce soil pollution, including heavy punishments to farmland polluters.
China faces a grim situation in terms of soil conditions, said Luo Qingquan, deputy head of the National People's Congress' Environment and Resources Protection Committee.
A 2014 survey released by the ministries of environmental protection and land and resources showed 16.1 percent of surveyed spots were found to be polluted.
Luo said the prevention and control of soil pollution is closely related to public health, grain product safety and economic growth.
There currently is no specific law to lead the systematic and scientific prevention and control of soil pollution. Mitigation is generally a difficult, lengthy and costly process.
The draft law on soil pollution prevention and control was submitted at the bimonthly session of China's top legislative body, the Standing Committee of the National People's Congress, for the first reading on Thursday.
The draft, with 94 articles in nine chapters, has stipulations on prevention and controls from start to finish, such as setting up technical standards, monitoring, risk assessment, restoration of polluted land and punishment for violations.
According to the draft, China would conduct a national soil condition census every 10 years and build a monitoring network to get updated data on the condition. The environmental authority would release the data.
The Ministry of Environmental Protection has begun to establish a monitoring network, using 20,000 devices covering 99 percent of counties and 88 percent of major grain-growing areas. The number of devices will expand to 40,000 by the end of 2020.
Among the stipulations in the draft law are chapters targeting pollution on farmland and construction lands.
Farmland polluters would receive heavy fines, under the draft. They would face fines of up to 2 million yuan ($293,000) for discharging any sewage or other waste containing heavy metals or other pollutants on farmland or if caught applying manure or other materials containing toxic elements and this severely damaged the soil quality.
The draft also promises funds at the national and provincial levels to support projects cleaning up polluted land.
Qiu Qiwen, head of soil quality management at the Ministry of Environmental Protection, said the draft would provide solid legal support to facilitate the national campaign against soil pollution, launched in May 2016.