Trial approved for blood protein cultivated in rice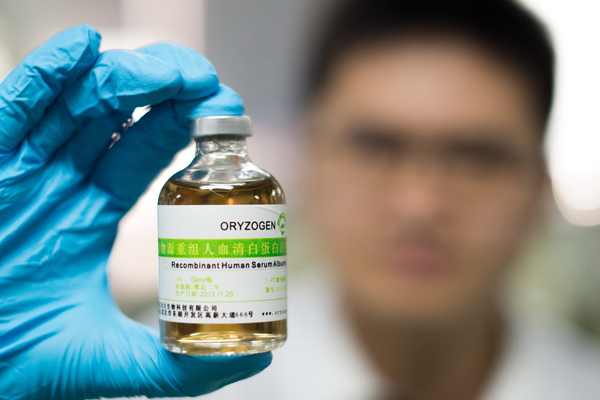 A researcher shows a bottle of human serum albumin cultivated from rice seeds. Photo by Ren Yong /For China Daily
WUHAN - China's food and drug authority has approved a clinical trial of human blood protein cultivated in transgenic rice seeds, which could lead to large-scale production of much-needed blood plasma.
Plasma is widely used in surgeries as a temporary blood replacement. It contains human serum albumin, a protein that is naturally produced in the liver.
Now a Chinese research team, led by bioengineer Yang Daichang, has come up with a way to use rice seeds to synthesize plasma.
Yang's team transplanted human serum albumin into rice seeds. The seed continue to generate the protein as they grow.
Wuhan Healthgen Biotechnology Corp, a Chinese company specializing in animal-free pharmaceuticals, has invested 200 million yuan ($29 million) in the research.
The company, based in Wuhan, Hubei province, is eyeing large-scale production of human serum albumin from rice.
The albumin will be put into clinical trials in August, and can be expected to hit the market in four to five years.
There is a major shortage of human serum albumin in China, estimated at 100 metric tons a year. About 60 percent of the country's yearly demand of 420 tons is imported.
Safety is also a concern with plasma from human donors, as blood diseases such as HIV and hepatitis pose a threat.
The China Food and Drug Administration's Center for Drug Evaluation said that the human blood protein generated in rice is "safe and effective".
Xinhua