Flies gobble up organic waste
A waste treatment center where hordes of black soldier flies eat organic waste is playing an important role in handling household garbage in Guangzhou, Guangdong province.
Guangzhou Outreach Environmental Technologies, which runs the center, started trial operations in September and currently treats 3 to 4 metric tons of kitchen waste a day, according to Xu Song, the company's vice-president.
"Volume will increase to more than 100 tons a day after official operations start in September," Xu said.
He said the center represents a trend in treating organic waste.
"Eating organic waste is natural for black soldier flies, and we don't destroy the animal's natural instincts," he said.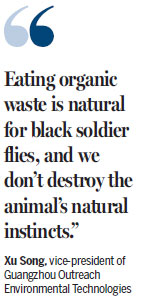 The waste becomes organic fertilizer after the flies consume and discharge it. The flies themselves eventually become food for fish, birds and other animals after they die.
Black soldier flies usually live between 30 and 35 days. They start to eat waste when they are in the larvae stage.
The center has been designed to handle more than 200 tons of organic garbage a day, making it the largest of its kind on the Chinese mainland. It features a 10,000-square-meter core area for breeding and keeping the flies.
Huang Yanhua, a researcher at the Guangdong Academy of Agricultural Sciences' Institute of Animal Science, said the flies have impeccable credentials for environmental safety.
"Using black soldier flies to treat domestic garbage does not lead to an invasion of the creatures" outside of the treatment area, she said. "Nor do they damage our living environment."
Black soldier flies are afraid of people - that's their biological nature - so they don't invade homes or disrupt people's lives, she said.
Xu said he believes the center has a bright future. A similar facility is expected to be built in Guangzhou later this year, he said. He didn't provide details because negotiations are ongoing.
In addition to a growing number of mainland cities seeking cooperative opportunities - in Hunan and Hainan provinces and the Guangxi Zhuang autonomous region - Xu's company is talking with governments in Singapore, Malaysia and the Macao Special Administrative Region about building waste treatment centers and breeding black soldier flies.
Germany is also negotiating with the company to provide equipment, Xu said.
So far, only South Africa has opened a waste treatment station using the flies. The bugs are mainly used in Western countries to treat cow and pig manure, Xu said.
"Compared with traditional garbage treatment centers, a center that uses black soldier flies has the advantage of low construction and production costs and scant environmental pollution. It also requires less land," he said.
An urban management official in Baiyun district, who asked not to be named, said that while the government would like to see such projects spread, it is difficult to persuade restaurants, hotels and canteens to give up the money they make by selling their waste to companies that use it for animal feed or in recycled products.
"Right now, we offer to buy restaurants' kitchen waste," she said. "But they can make more money by selling it to a private business."
Wang Ting contributed to this story.
zhengcaixiong@chinadaily.com.cn