Introducing the world to autistic children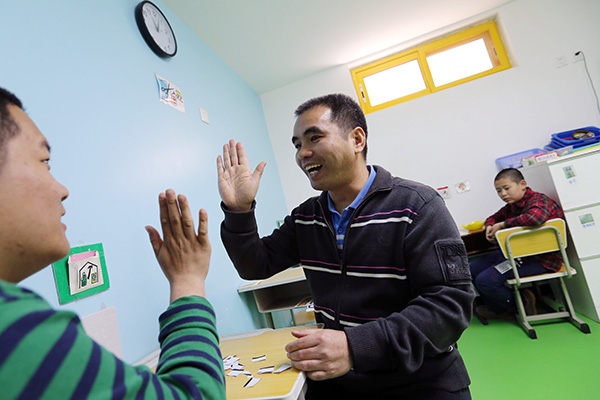 Wu Liangsheng gives a student a high five. [Photo by Wang Zhuangfei /China Daily]
Finding the silver lining
Teaching autistic children has never been a smooth path for Wu, and he even considered quitting the institution at one point. Teaching a seven-year-old girl from Southwest China's Guangxi Zhuang autonomous region was a major challenge at the beginning. Wu spent six months teaching the girl how to clap her hands, and the girl totally forgot what she had learned when she came back to Wu the second year. The same thing happened the third year, and Wu felt deeply frustrated with the girl's "learn-and-forget cycle".
Wu could have also built a more financially stable career. One of his college friends invited him to become a partner at a training company in Shenzhen. He was making a meager 400 yuan ($58 dollars) a month when he first started, in stark contrast to his already deep-pocketed friend. Frustration over reality mixed with uncertainty about the future crept in. "I thought about quitting," Wu confessed.
Tian Huiping, founder of the institution, who has an autistic son herself, talked to Wu several times, and Wu decided to stay.
Autism is a lifelong disorder that cannot be cured. According to Tian, the meaning of the work is not to cure autistic children, but to help them make every tiny step in the outside world and enjoy that progress with them.
"I adjusted my goals after the talk, and learned to find the silver lining in every child," Wu said. "Special education is more challenging than normal education, thus we need an institution, a team to back us up."
The thought of quitting never occurred again after that realization. Wu has taught more than 4,000 children in the past 21 years, and became director of the institution's youth department.