Introducing the world to autistic children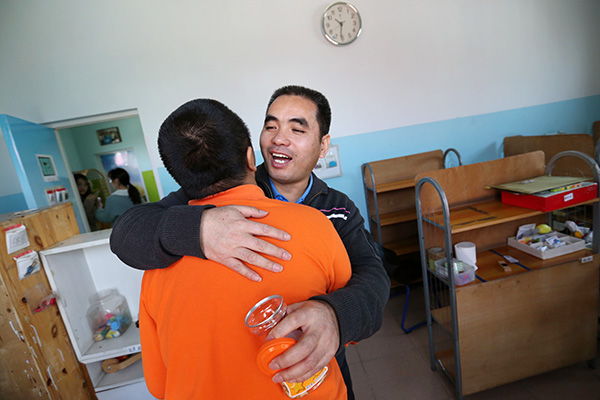 Wu Liangsheng hugs a student in support. [Photo by Wang Zhuangfei/China Daily]
Patience: A 72-hour back and forth battle
In 1999, another child, a 5-year-old boy, refused to eat or drink anything except salted egg yolk and orange juice. Wu spent dozens of hours with the boy and gently tried every method to get him to eat a piece of bread or grain of rice, only to receive opposition. Wu refused to give up, and the boy finally swallowed a piece of steamed bread without realizing it after 72 hours of a back and forth battle. Wu praised the boy immediately and gave him a salted egg yolk as a reward.
"He was a smart boy," Wu said. "He learned he could have salted egg yolk if he accepted other food we gave him after only three rounds of training, and the boy's mother burst into tears seeing his progress."
His mother had initially organized a team to take care of her autistic son, with his grandmother and grandfather as the cooking squad, who usually spent five hours in the morning trying to get the boy to eat. "The grandma and grandpa can be relieved now," the mother cried out.
"Money cannot buy this," Wu said. "Not his parents, not his closest relatives. It was me, only me, who could help this child. That is the meaning and value of my work."
Responsibility: Putting in all or nothing
"I am still passionate about my work after all these 20 years," said Wu. "I will cancel the class or let other teachers take over if some days I cannot fully engage."
Sister institutions sometimes invite Wu to train their teachers, and parents of those institutions will ask Wu to spend five minutes to see their children.
"I would tell them that it is impossible for me to take a look at a child for just five minutes," Wu said. "I will either fully engage in a case with a high professional attitude, or simply skip it. If one day I lose my passion, I would rather resign or retire."
Due to teaching requirements, Wu lifts the children if they need help to move, regardless if they weigh 20 or 40 kg. This lead to a very serious waist pain that appeared on Dec 30, 2012, and lumbar surgery in January 2013. "I am not a role model," Wu smiled. "And I hope all teachers take good care of themselves."
Science: Professional training for teachers is a must
Scientific methods and training are important when it comes to teaching autistic children, and Wu has never given up receiving professional training despite his busy daily schedule.
Wu started to study Applied Behavior Analysis (ABA) theory and practical training in 1998, and took Treatment and Education for Autistic and related Communication handicapped Children (TEACCH) courses in 2004. He also studied TEACCH and ABA in 2005, 2008 and 2012 in Japan and the US. In 2008, Wu also took the Non-Abusive Psychological & Physical Intervention for a Safer Workplace (NAPPI) training in the US. Science is the cornerstone of their teaching, according to Wu.
"Based on it, we can interpret and analyze the children's behavior very quickly and come up with our strategies," he said.