'Cash for trash' program raises people's awareness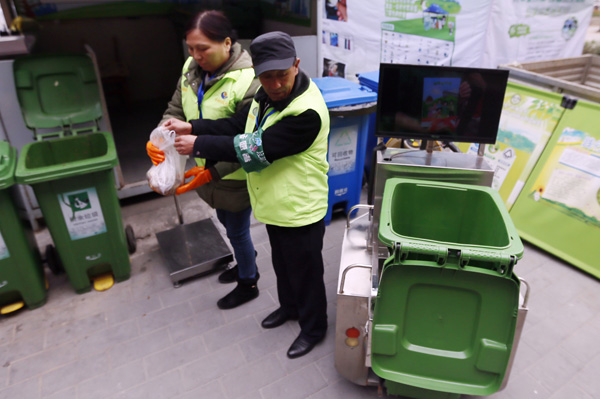 Staff weigh trash prior to handing out credit coupons. [Photo by Cao Boyuan/For China Daily]
Every few days Liu Ying carries a bag of vegetable peelings and other kitchen waste to a small office and trades it for credits, rather than disposing of it in a trashcan.
"The people weigh it and then give me credits I can exchange for household items, such as toilet paper and soap," said the 65-year-old resident of Beijing's Chaoyang district.
"It's not trash anymore."
In a 20-minute period on the morning of April 12, three seniors visited the office to trade their kitchen waste.
"Most of our clients are senior citizens. I think that's because they have the time to do it," said Zhou Liping, who has worked at the office for four years.
The "cash for trash" program is one of the most popular initiatives adopted by companies that promote waste-sorting among householders.
"We encourage residents to sort kitchen waste from other household trash by providing special bins for their homes, and then giving them credits so they will continue to bring their waste to us," said Li Zhen, manager of Beijing Capital Intelligent Environmental Sanitation Development, a leading sustainable-resources company.
Li has been promoting the program in the 1,200-household community since 2012, and now 40 percent of the residents regularly bring their waste to be processed.
Similarly, Aobei Environmental Technology, an environmental company in Chengdu, capital of Sichuan province, has spent five years building the participation of 200,000 households.
"It took a long time to get the residents to accept our ways and raise their awareness of the importance of sorting trash," he said.
Mao Da, leader of the Zero Disposal Project, an environmental platform in Beijing, said many cities have promoted trash-sorting for more than 17 years, but progress has been slow. Moreover, many residents have complained that their efforts have been in vain because local governments often mix trash cans together.
The process consumes time and money, and it's hard to make a profit, he said.
"However, many organizations and individuals are enthusiastic about promoting the program. They make every effort to protect the environment," he said, adding that the government's plan to sort trash in 46 cities will boost his company's operations.
The new action plan requires businesses and government buildings to sort trash in 46 cities by 2020, but it's not mandatory for residents to so.
Wang Jianchao, the owner of Aobei Environmental Technology, which promotes the cash for trash program, said more local governments are planning to expand sorting and separation among members of the public and have started contacting them.
"Confronted by pollution, a growing number of people have realized the role they can play in environmental protection, and are willing to participate in projects," he said. "It's a good time to introduce trash-sorting policies."