Beloved trees have messy habit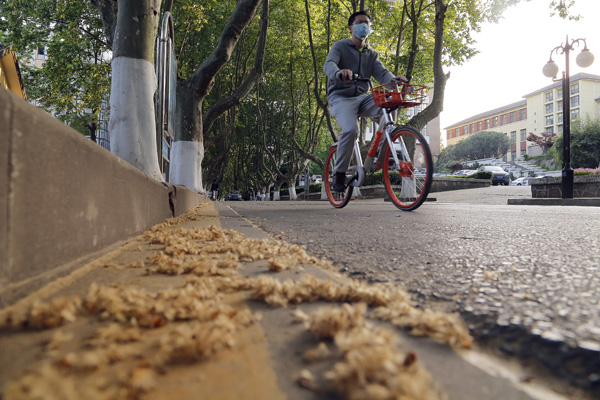 A cyclist riding on Zhongshan North Road in Nanjing on Monday wears a mask, which can help prevent the inhalation of falling bristle fibers from plane trees. [Photo by Wan Chengpeng/For China Daily]


Nanjing residents have new online tool to avoid annoying fallen seed fruits
Nanjing, Jiangsu province, has developed an online platform to forecast the amount of annoying dry fruits, or achenes, that will fall off plane trees. The trees are beloved by the city's 8 million people, except from April to June, when they create a mess.
According to Nanjing Gardening and Greening Bureau, residents can get information about the achenes on 54 main roads at 8 am, noon and 5 pm. They can choose which road to take and avoid those where the achenes are heavy on the ground.
Plane trees are considered to be one of Nanjing's most attractive features. They are usually well-behaved and provide ample shade in summer. Residents even protested when the city's former officials planned to remove some of the trees for subway construction.
But in springtime, the trees shed their numerous yellow conical fruits. Each achene has countless tiny bristles at the base that can irritate skin or cause allergic reactions. Many people who don't bother to wear masks on smoggy days surrender in front of the nearly invisible floating fibers.
Bao Jing, deputy director of the province's Meteorological Service Center, said that weather, experience and the number of plane trees are taken into account to forecast the amount of falling achenes.
"A scientific method has been designed to provide a forecast," she said. "It will be used until some effective method is found to control the achenes."
He Yongshun, deputy director of the bureau, said that among the city's 380,000 trees along city roads, more than 90,000 are in the plane tree family.
"There will be heavy achenes falling from the wind-pollinated trees until the end of May," He said. "Though various methods have been adopted by the bureau to reduce the amount of platanus fruits, none of them has proved to be effective."
Since the 1980s, the bureau has asked workers to cut branches older than two years. That is when they are mature enough to produce achenes. But due to the large number of trees and their height, the bureau doesn't have enough manpower do that.
Since 1996, it has grafted branches treated with radiation. The radiation causes cell mutations and less fruit is produced, but the grafted trees are easily sickened or begin to produce achenes again years later.
Chemicals are also used to control the fruits. But workers need to drill into the tree trunks, and the chemical doses are hard to control, the bureau said.
"We have cooperated with Nanjing Forestry University and Jiangsu Academy of Forestry to monitor the amount of achenes on several roads using different controlling methods. We will also alter the choice of trees to avoid falling achenes."