Road to reconstruction nears end in quake-hit Tibet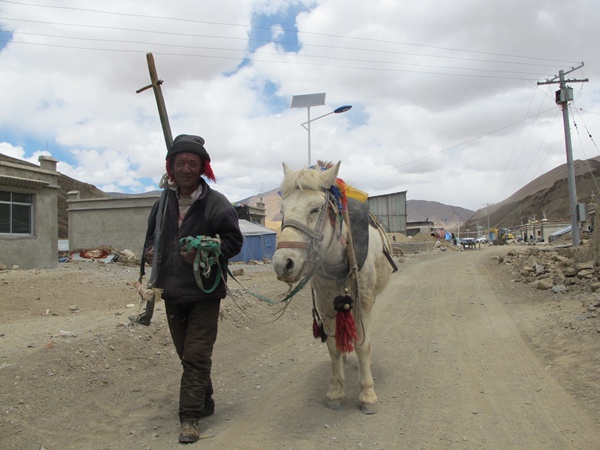 A Tibetan farmer is seen on his way home after work in Nyantok village of Menba township of Nyalam county, Tibet autonomous region. [Photo by Palden Nyima/chinadaily.com.cn]
Reconstruction work in the Tibetan villages damaged by a 2015 earthquake in Nepal should be completed this year, according to the Xigaze city government.
Eighteen counties in the Tibet autonomous region were affected when a magnitude-8.1 earthquake struck Nepal on April 25, 2015, with Nyalam, Gyirong, Dingri and Dinggye the worst hit.
"More than 300,000 people (in Tibet) were affected, and more than 11.1 billion yuan ($1.61 billion) has been invested in reconstruction projects," said Basang, vice-mayor of Xigaze, which borders Nepal.
The projects include residential building reconstruction and infrastructure projects related to energy, water conservation, transportation, education, healthcare, cultural heritage and religious sites.
"The reconstruction of 163 villages and 32 special towns is in progress. All villages will have access to basic infrastructure and public services," Basang said.
He said the government also has invited industries to be based in the villages to help provide jobs for residents.
Lhakpa, 73, lives in Gyirong county's Ta village, where most houses either collapsed or were damaged in the 2015 quake. The government agreed to build new homes for all families, and most have now moved into their new homes.
"I never dreamed I would live in such a new house. The old house was uncomfortable in comparison, but it was all I knew," Lhakpa said.
In her old home, the family kept sheep and cows in the yard. It was untidy and smelly, especially in the summer, she said, adding that the animals are kept further away at the new house.
"I want to thank the government. The new house is big and bright, and each family member has their own bedroom," she added.
Nyalam was one of the most severely affected counties, with more than 3,500 collapsed or damaged houses, and a direct economic loss of about 2.8 billion yuan.
Nyima Gyalpo, 40, whose house in Nyantok village was damaged in the quake, said his family moved into a new home built by the government in October.
"We're pleased to live in the new house. We have also asked the local government to add a yard," Nyima Gyalpo said.
"In addition to the new houses, the government is building roads to our village, and all families will soon have running tap water. I want to thank to the government for providing us with a new life."