40 Chinese 'red notice' fugitives returned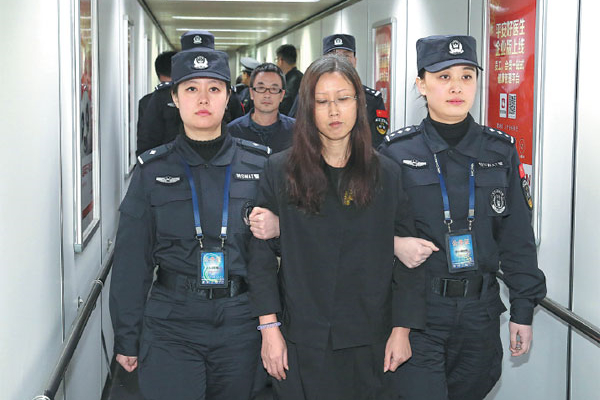 Zhang Qingzhao, who featured on an Interpol list of China's 100 most-wanted fugitives was repatriated from the Caribbean state of Saint Vincent and the Grenadines on Feb 6, 2016. [Photo/Xinhua]
Forty suspects on Interpol's "red notice" list of China's 100 most-wanted fugitives have returned from abroad over the past two years, either by force or of their own volition, reported people.cn, the People's Daily online platform.
On April 17, Li Shiqiao, former general manager of a real estate company in Ningbo in East China's Zhejiang province, returned from Canada and turned himself in. Li was ranked 75th on the list released by Interpol in April 2015 and was the 40th to return.
Among the returnees, 19 are suspected of embezzlement and seven are accused of taking bribes. Many of the suspects were on the run for a long time. Zhu Haiping, who worked for the Civil Aviation Administration of China and was suspected of fraud, stayed in the United States for 18 years before turning himself in 2016.
The main destinations for the 40 fugitives include the US and Canada, followed by Asian countries such as Thailand, Singapore, Malaysia and South Korea. Some fugitives chose less familiar countries like Guinea-Bissau, Ghana and even countries that have no diplomatic relations with China, such as Saint Vincent and the Grenadines.
Twenty-five of the 40 fugitives turned themselves in. Seven were repatriated, six arrested and two are dead.
"I was surprised by the Chinese government's capacity to uncover fugitives hiding overseas. I hid in countries that don't have diplomatic relations with China. I was smuggled into those places and thought I would be safe at the other end of the earth," said Zhang Qingzhao, who ranked 41st on the list, said in her confession. She was captured by police in a mountainous area in the suburbs of the capital of Saint Vincent and the Grenadines in 2016.