Home-based aged care facilities promoted in Beijing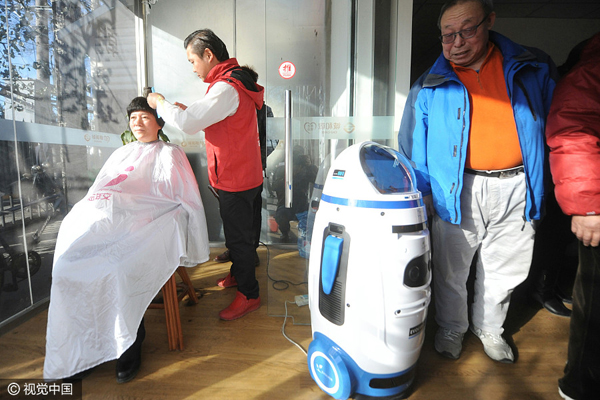 An elderly woman has her hair trimmed at one of the new aged care centres in Beijing on Dec 1, 2016. [Photo/VCG]
Home-based aged care facilities and services are being promoted in Beijing, with a range of care options available in residential communities.
According to a plan published by the Beijing Bureau of Civil Affairs on on Tuesday, 1,000 aged care centers will be developed in Beijing by 2020.
Daycare as well as food, health and psychological consultation will be provided to elderly residents living within the radius of a kilometer from each center. Each facility will be expected to cover a population of up to 10,000 people, and, as stated in the plan, the facilities will also be built in the countryside.
The Beijing government committed to provide the premises to operators free of charge, along with financial support. In last year, 150 such facilities have been developed.
The plan said that the amount of elderly people living alone, or suffering with disabilities or dementia, in Beijing is on the rise. As a result, the demand for home-based age care services is growing.
By the end of 2015, more than 2 million residents, or 10 percent of the total population in Beijing, were aged 65 and above.
According to a 2015 report on the senior support industry in Beijing, residents only had access to more than 400 nursing homes across the city, with about 80 percent of the facilities far away from central areas.