Reviving a centuries-old tradition in Tibet
After being supplanted by modern exercise books, Tibetan writing boards are making a comeback
Traditional Tibetan writing boards largely fell out of favor two decades ago as modern paper became more widely available, but today they are witnessing an unexpected revival.
The boards, called jangshing in the Tibetan language, may not offer the same convenience as an exercise book, but they are part of an ancient writing tradition thought to date back hundreds of years.
"Writing boards' popularity in Tibetan schools faded 20 years ago with the widespread use of exercise books, but it has showed a revival during the last few years," said Tashi Phuntsok, a teacher at the Tibet University and one of the founders of Yakgu Children Culture, which works to market traditional Tibetan writing boards through social networking app WeChat.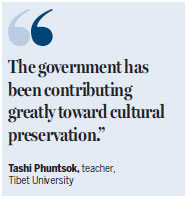 "The popularization of the computer is another key factor in the writing board's decline, which has led to the decline of the Tibetan calligraphy, too."
Tashi remembers practicing calligraphy on a writing board while at primary school and thinks it is important for students to familiarize themselves with the traditional method, as it was used by generations of famous Tibetan calligraphers.
"The government has been contributing greatly toward cultural preservation and continuation, but the official support is not enough: individuals have to do a better job through their own efforts," he said.
"The design and shape of the boards we produce have to meet the needs and aesthetic standards of modern Tibetan children, but also reflect tradition."
The Yakgu Children Culture's writing boards are made from all-natural materials, while the ink that accompanies them is made from burned barley ash and brown sugar - a cleaner alternative to the sandalwood ash and leftover cheese-making water that was traditionally used to make ink in the Tibet autonomous region, Tashi said.
He believes the recent surge in popularity of writing boards has been caused by greater academic pressure among children.
"The number of subjects being studied has increased, as has the homework, and more students are choosing to learn writing using a board," he said.
He said that he and his colleagues have introduced their boards into a number of Tibetan primary schools and kindergartens, which he said shows thriving demand for traditional writing products.
The company also organized a Tibetan calligraphy exhibition recently, to pique children's interest in the ancient art.
More than 1,000 entries were collected from primary schools across the region, and 100 prize-winning entries were exhibited in the Tibet Mass Art Museum during the seven-day event.
A Tibetan calligraphy instructor was also present providing demonstrations and tuition to those who attended.
"A Tibetan girl attended the activity for six of the seven days and she said her handwriting witnessed clear improvement," Tashi said.
Apart from promoting the use of Tibetan writing boards, Tashi's company also distributes free content such as traditional Tibetan songs, folk tales and articles about the region through their official WeChat account, which has more than 20,000 followers.
Within six months of coming to market, more than 1,000 Yakgu Children Culture writing boards had been sold, and the company has received numerous phone calls enquiring about their products.
Tashi now hopes that the writing board's resurgence in popularity will contribute to a better world.
"Using a writing board can help to save paper and teach more beautiful handwriting," he said.
Contact the writers at palden_nyima@chinadaily.com.cn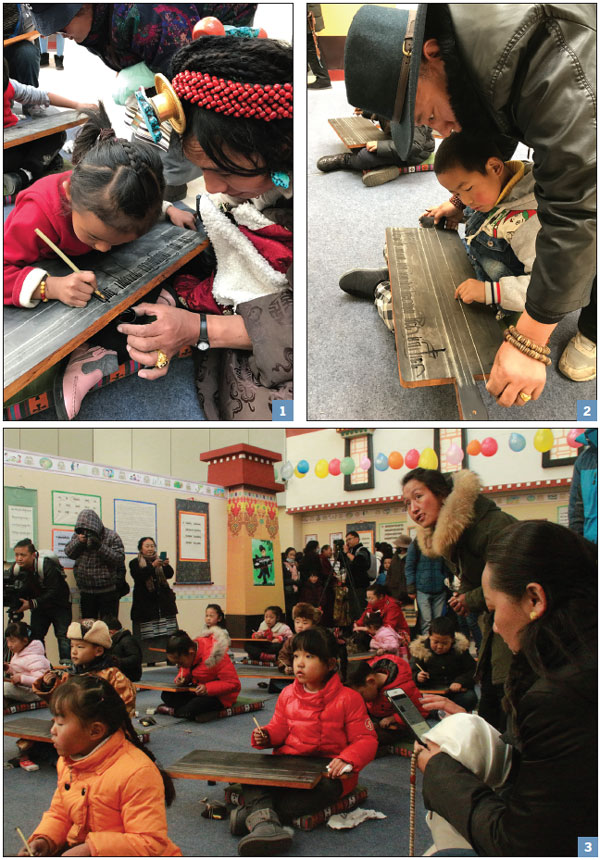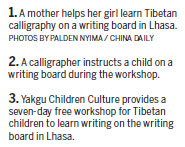 (China Daily USA 04/14/2017 page5)