72-year-old plays Minnie Mouse to pay for medical bills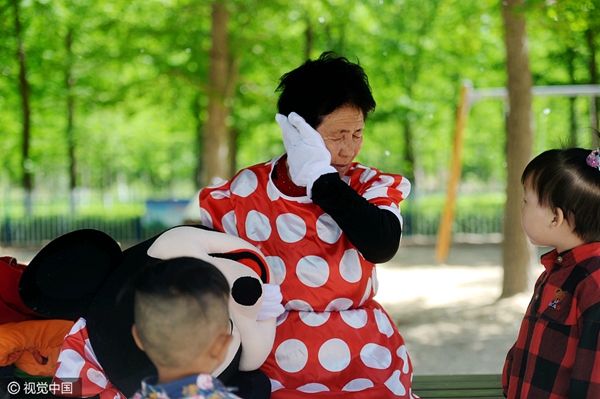 Yin Pizhi wipes her sweat during work at a park in Jinan, East China's Shandong province, on April 18, 2016. [Photo/VCG]
The photos of a 72-year-old playing Minnie Mouse at a park in Jinan, East China's Shandong province, went viral online, as her story moved many netizens, sd.iqilu.com reported on Wednesday.
Yin Pizhi, wearing a heavy and stuffy Minnie Mouse costume, invites pedestrians to take photos with her and charges one to five yuan ($0.15-0.73) per time.
She's doing this to earn money to pay medical bills of her daughter-in-law, Wang Haimei, who was once in a vegetative state after a traffic accident last year. Now she is conscious and doing much better but owes more than 70,000 yuan to the hospital.
Wang is still receiving treatment at the hospital but her husband has returned to their hometown to look after their 14-year-old son. The task of taking care of the patient falls on the Yin's shoulders.
"New medical bills of 800 to 1,000 yuan generate every day", said Yin. "I wash dishes and play Minnie Mouse at intervals of hospital care time."
With Yin's attentive care, Wang is estimated to regain the ability of caring for herself in one or two months. "When I am restored to health, I will repay my mother-in-law," said Wang.