Bringing learning back to the mountains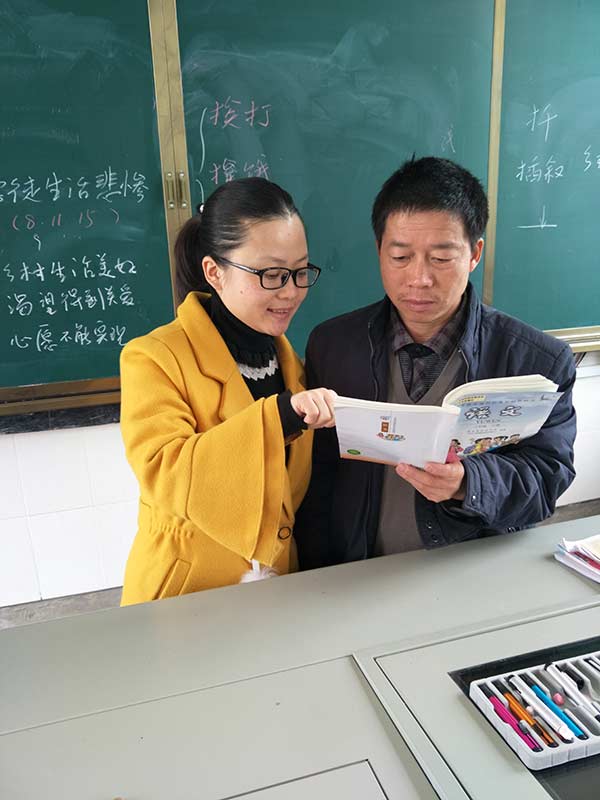 Jiang Lili and her father Jiang Congqing discuss teaching in a classroom of Qingxi Primary School in Yongjiang county, Hunan province.Provided To China Daily
Three generations of one family in Hunan have returned to their remote hill village to teach
Many who live in the poorest parts of rural China dream of pursuing a college education so they can escape their poverty-stricken hometowns - especially those from mountainous areas with little access to the outside world.
But three generations of the Jiang family, from Yongjiang county, Hunan province, appear to have bucked this trend by bringing education back to their home village of Qingxi, a settlement more than 50 kilometers from the county seat.
Jiang Hao became the first person from his village to secure a place at college when he was accepted by an institution in Hengyang, Hunan in 1955. His family's poverty almost meant that he was unable to attend, however, until his fellow villagers pooled their resources to cover his tuition fees and travel expenses.
According to his granddaughter, Jiang Hao was so moved that he knelt down in front of the whole village and vowed to return with the knowledge he would gain.
The patriarch, who has since died, stayed true to his word and even refused an offer to become a county government official after graduation, choosing instead to teach in local schools for 29 years until his retirement.
"My father often told us that he never expected to be an official or to be rich and, as a teacher in the mountains, he felt respected," recalled his son, Jiang Congqing, who in 1985 also gave up an opportunity to work as an official in the township government and become a teacher instead.
The 52-year-old is now principal of Qingxi Primary School, which has nine teachers and 138 students. He said one-third of the students are left-behind children whose parents are migrant workers.
The granddaughter, Jiang Lili, said she had wanted to be a teacher from an early age.
"Since childhood, senior family members have taught us we should make every effort to get more education and make our dreams reality," said the 28-year-old.
"'Students in the mountains have to learn English in their third year of primary school. If they don't learn English well, they fall behind other students. So, after I graduated from senior high school in 2006, my grandfather suggested I chose an English major at college."
Jiang Lili took her grandfather's advice. In 2011, she came back to Qingxi Primary School and became an English teacher.
The four other teachers who joined with her at the same time have since left. She has also had chances to transfer to other schools in different locations, but chose to stay.
"I don't want to leave the place where I was born and raised. I don't want to abandon the children here," she said.
"This school is remote and isolated, which makes many young teachers reluctant to come. But the older teachers here are not qualified to teach English. If I leave, the students here will fall far behind their urban counterparts."
Jiang Lili now hopes to help as many students as she can learn the skills to succeed in life. "I hope my efforts can help the children here bridge the gap in knowledge and life experience they have with their peers in the city. I hope more of them will get out of the mountains and see the world outside," she said.
Contact the writers at houliqiang@chinadaily.com.cn