Smart spoon helps shaky hands eat in comfort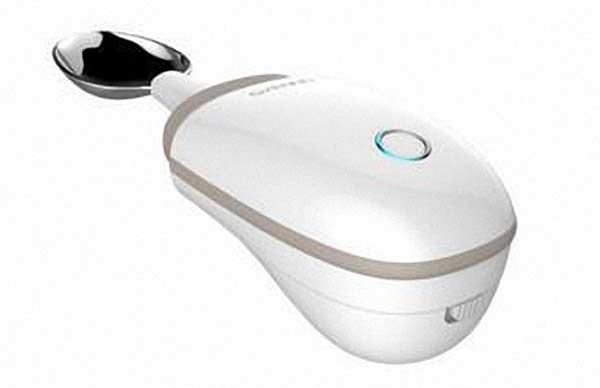 Smart spoon from Gyenno Technologies reduces the effect of tremors.Photo Provided To China Daily
Something as simple as eating a bowl of soup can be an ordeal for someone with Parkinson's disease, a degenerative illness that causes muscle tremors.
Yet in the past few years, technology companies have been coming up with innovative designs for so-called inclusive cutlery, which allow people to eat unassisted in comfort.
The Gyenno Spoon, for example, was designed in southern China and went into mass production last summer. So far, more than 6,000 units have been sold online in 10 countries, including the United States and the United Kingdom.
The device can distinguish intentional hand motions from unconscious tremors, according to Ren Kang, the 32-year-old CEO of Gyenno Technologies, based in Shenzhen, Guangdong province. He said it has an intelligent, high-speed control system that provides fast and accurate stabilization and can offset 85 percent of unwanted hand movements.
In addition, the frequency of tremors and other information about users is collected and used as a reference for medical professionals to adjust drug use in treatments, he said during a visit to Huazhong University of Science and Technology in Wuhan, Hubei province, ahead of World Parkinson's Disease Day, which was on Tuesday.
Parkinson's disease primarily troubles people older than 50. Although the symptoms can be managed, there is currently no cure.
The World Health Organization forecasts that China will be home to 5 million people with Parkinson's disease by 2030, accounting for 57 percent of all cases in the world.
Ren said his team interviewed more than 80 people for four hours each during development of the smart spoon. Many also were depressed, he said, recalling one 60-year-old woman who began crying every 20 minutes or so. This made him even more determined to help, he said.
Ren added that his team has been working on the second generation of the spoon, which will be slimmer and have better performance.
Li Bo contributed to this story.
Contact the writers at houliqiang@chinadaily.com.cn