Seizure of ivory, horns biggest in recent years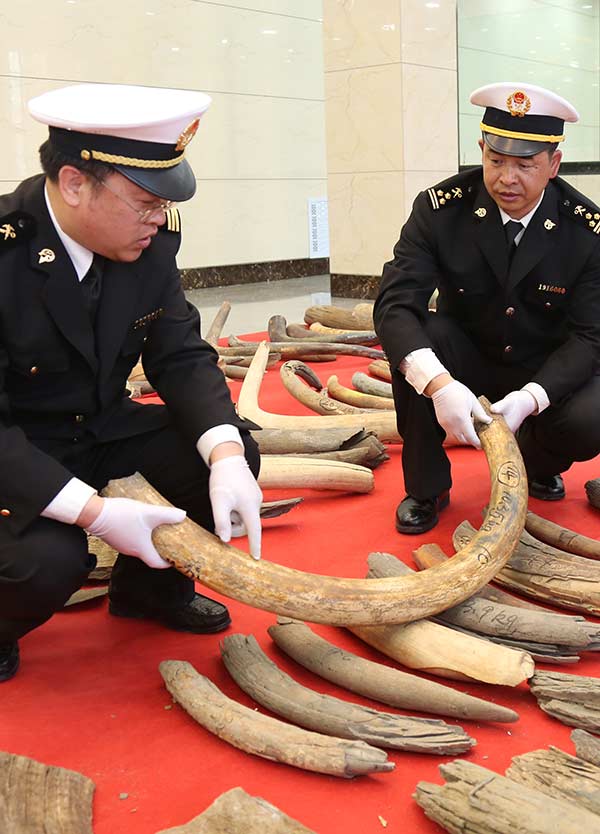 Customs officers examine the ivory tusks of prehistoric mammoths that were seized in Luobei, Heilongjiang province.Qian Zhuang / For China Daily
Customs officers in Heilongjiang province announced on Monday that they had cracked a significant case involving the smuggling of prehistoric mammoth tusks, woolly rhinoceros horns and jade.
In the largest haul of such items in recent years, more than 1 metric ton of ivory mammoth tusks and 73 kilograms of woolly rhinoceros horns were discovered, along with 1 ton of jade material.
Heilongjiang's Luobei county is separated from Russia by the Heilong River, known as the Amur in Russia. On Feb 16, six trucks carrying soybeans imported from Russia arrived in Luobei for customs clearance.
One of the trucks was found to be much heavier than the other five, despite carrying the same amount of soybeans. A check by Luobei customs officers found concealed compartments in the rear.
Two days later, customs officials from the county and Jiamusi city inspected the trucks, finding one large concealed compartment and 34 smaller ones. The largest was filled with the mammoth ivories and woolly rhinoceros horns, while the 34 small ones, all the same size, were stuffed with jade materials, according to the authorities.
The truck driver, surnamed Gao, went missing, but was arrested in Jixi city, about 250 kilometers south of Luobei on Feb 26, with another man, surnamed Han, who allegedly owned the cargo.
Zhang Yue contributed to this story.