Incoming HK chief 's election 'deserved'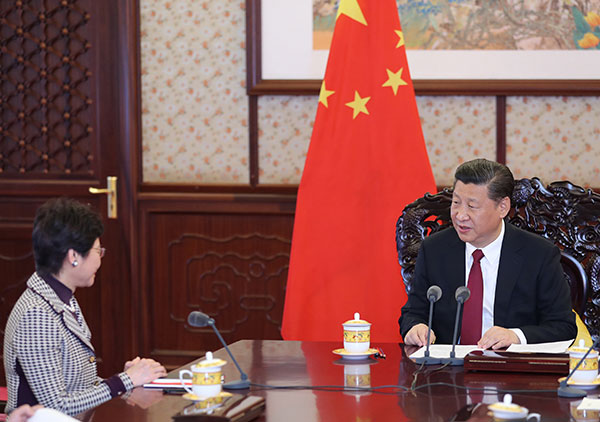 President Xi Jinping meets with Lam Cheng Yuet-ngor, the newly appointed chief executive of the Hong Kong Special Administrative Region, at the Zhongnanhai leadership compound in Beijing on Tuesday.[Photo by Ju Peng/Xinhua]
President says Lam matches Beijing's 'longtime standard' for leader of SAR
Beijing will not waiver in the principle of "one country, two systems" in Hong Kong and will fully support the newly appointed chief executive of the Hong Kong Special Administrative Region and her government to govern according to law, President Xi Jinping said on Tuesday.
Xi made the remark when meeting Lam Cheng Yuet-ngor-who will take office as the fifth-term chief executive of the SAR on July 1-at the Zhongnanhai leadership compound in central Beijing.
Xi congratulated Lam on her victory in the election and ensuing appointment by the State Council. Lam won the chief executive election with 777 of 1,163 valid votes from members of the Election Committee on March 26.
The president said Lam, who has worked in the Hong Kong government for 36 years, has been devoted to the country and Hong Kong.
He said Lam, who is "diligent, pragmatic, dares to assume responsibilities, is experienced in governing and capable of handling complex situations", has won recognition in Hong Kong society, according to a news release issued after the meeting.
"You match the central government's longtime standard for the chief executive. Your victory in the election is deserved," Xi said.
He said the principle of "one country, two systems" has achieved great success in Hong Kong in the past two decades. This year marks the 20th anniversary of Hong Kong's return to the motherland.
Xi said people should continue to be creative in exploring and pushing forward the practice of the novel principle of "one country, two systems".
"The central government's determination to insist on the 'one country, two systems', ' Hong Kong people governing Hong Kong' and 'a high degree of autonomy' is firm and will not get changed or waived," Xi said, adding that Beijing will "fully support you and the new SAR government to govern according to law".
Premier Li Keqiang granted Lam a certificate of appointment on Tuesday.
Li expressed his hope that Lam will take the initiative to unite and lead the Hong Kong government and people from all walks of life in the region to fully and accurately implement the principle of "one country, two systems" and the SAR's Basic Law.
Lam pledged to continue upholding the "one country, two systems" principle, according to an interview that Xinhua published on Tuesday.
The notion of 'Hong Kong independence' will lead nowhere in Hong Kong, and it will never be tolerated, she said in the interview.