Chinese street snack deemed a hit in NYC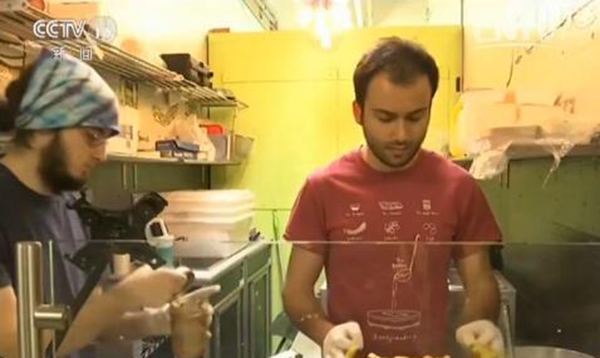 Brian Goldberg, founder of Mr Bing, and Reuben Shorser, co-founder of the Jianbing Company, both discovered jianbing while studying Mandarin in Beijing. After returning to New York, they both started their own jianbing businesses. [Photo/CCTV]
Jianbing, a popular Chinese street snack, has lately taken New York City by storm.
Brian Goldberg, founder of Mr Bing, and Reuben Shorser, co-founder of the Jianbing Company, both discovered jianbing while studying Mandarin in Beijing. After returning to New York, they both started their own jianbing businesses.
"Jianbing is so new to New Yorkers that demand for it has exceeded our expectations," the director of operations at Mr Bing remarked. The company sells several hundred jianbing every day.
To ensure the authenticity of its jianbing, Mr Bing invited Chinese jianbing-makers to train the company's employees in New York. In China, street vendors sell the snack for less than a dollar apiece. In New York, it can go for as much as $15. American consumers have so far given positive feedback about the traditional snack, and have shared pictures of it across social media.
A traditional jianbing starts with batter ladled onto a round cast-iron griddle. After different sauces and ingredients are placed onto the thin crepe, it is folded up to be eaten like a sandwich.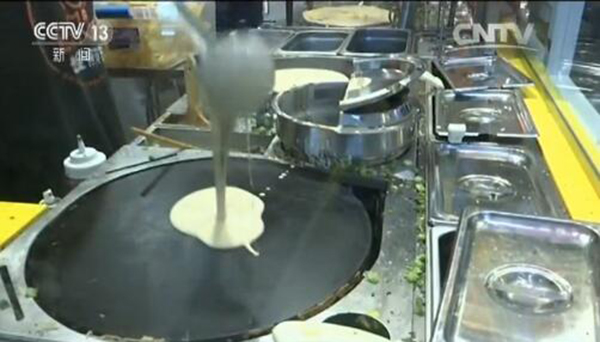 A traditional jianbing starts with batter ladled onto a round cast-iron griddle.[Photo/CCTV]