Young Chinese helping sticky rice balls make a comeback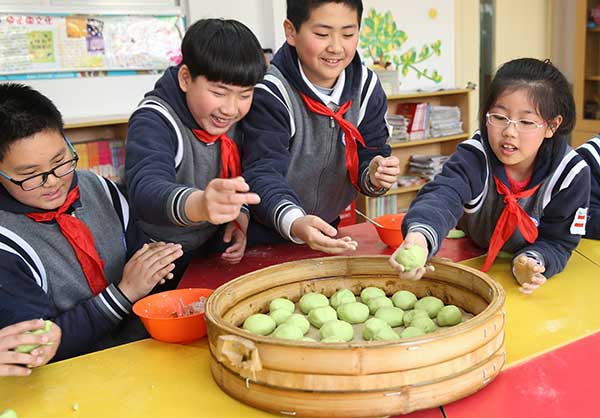 Elementary school students from Shanghai put qingtuan, green snacks for Tomb Sweeping Day made of sticky rice and mugwort, into a steamer on Saturday.[Photo/Xinhua]
Weeks before Tomb Sweeping Day, which fell on Tuesday, young people in Shanghai waited in line for hours to enjoy qingtuan, or sweet green rice balls.
The snack, which has been around for centuries, is a must-have offering for the ancestral rituals around this time in the Yangtze River Delta.
Yet before the growth of social media and e-commerce, the snack had started to be forgotten as young people moved far from home. Now, it is regaining its popularity.
Instead of making qingtuan by hand like their parents or grandparents did, young people buy them using a smartphone app or line up at Xinghualou, a Shanghai bakery that sells qingtuan stuffed with dried meat floss and egg yolk.
"I saw my friend posting pictures of qingtuan on WeChat. They are definitely worth the long wait," said Yu Sheng, 28, as he stood in line outside the store.
Xinghualou's qingtuan are sold at 50 yuan ($7) for a box of six balls. According to a notice in the store, customers are limited to four boxes per purchase.
Last year, when Xinghualou decided to reintroduce the snack with a new flavor, people had to wait for up to six hours to buy some. This year, the waiting time is two to three hours on weekdays.
"Up to 300,000 qingtuan with the new filling are sold in our three main stores in one day," said Zhi Jing, a spokesman for the bakery. "Our sales have more than doubled in March compared with last year's 10 million yuan."
Many foodies have been sharing stories of buying or tasting the rice balls on social media, while scalpers have also appeared on the scene, charging at least 10 yuan to stand in line.
Boxes of qingtuan have been selling for as much as 100 yuan on Taobao, an online marketplace, with much of the interest coming from people in other parts of the country who are unfamiliar with the snack.
"I'm from North China, and I tried qingtuan for the first time today. It's very sweet and yummy," said one netizen on Sina Weibo.
The tradition of eating qingtuan on Tomb Sweeping Day can be traced to the Zhou Dynasty (c. 11th century-256 BC), according to Zou Kunxing, who has been making the traditional` cuisine for decades in Suzhou, Jiangsu province.
Zhou Sannan, who has been making qingtuan in Suzhou for over two decades, said, "Making old snacks with new fillings can help attract young people, but it's even more important to pass down and reinvigorate the traditional ritual."