Child lifted from 15-meter-deep well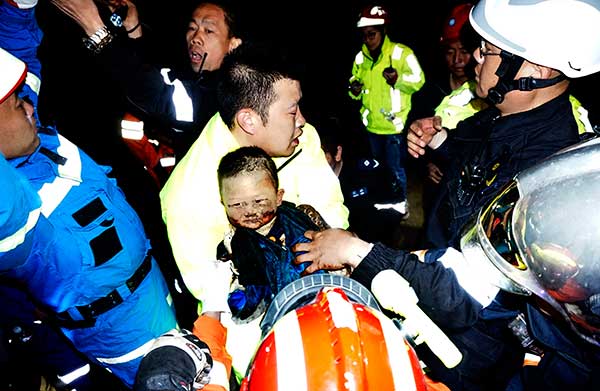 A 2-and-a-half-year-old boy, who fell into a 15-meter-deep dry well in China's Shandong province on Monday afternoon, was pulled out of the well alive at 3:06 am on Tuesday. Wang BIing/China Daily
A toddler who fell into a 15-meter-deep dry well in China's Shandong province on Monday afternoon was rescued early on Tuesday morning.
The boy, 2 and a half years old, was pulled out of the well at 3:06 am, alive and alert. He remains in hospital under observation.
The accident occurred at about 5:30 pm on Monday as the boy in Fangdong village of Zhangdian district in Zibo city fell into the unprotected well, the district government said.
The well, 30 centimeters in diameter, is so narrow that rescuers could not go down to bring the boy up. Dozens of excavators and bulldozers were used to dig a big hole near the mouth of the well to reach the boy.
When the well was reduced to about 6 to 7 meters, rescuers managed to pull the child out with the help of a camera and a "shaft lifter" specially designed for such situations.
In November 2016, a 6-year-old boy in Hebei province died after falling down an 80-meter dry well, despite a marathon rescue operation.