Qingming brings rush of rail travel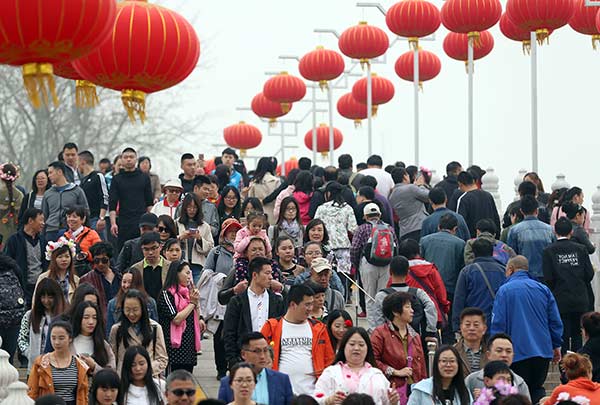 Visitors pack Yuyuantan Park in Beijing on Tuesday to enjoy cherry blossoms during the Tomb Sweeping Day holiday. [Photo/China Daily]


Passenger peak on Sunday saw total of 12.7 million journeys made

China's railway network saw more than 45 million trips during the four-day Tomb Sweeping Day break, which ended on Tuesday, according to estimates by the national rail operator.
China Railway Corp said the figure represents a 9.5 percent increase from last year.
Stations in Beijing, Shanghai, Guangzhou, Shenzhen, Guilin, Zhangjiajie and Kunming were among the most crowded this year, based on ticket sales, according to the company.
The travel peak came on Sunday, when 12.7 million journeys were made, an increase of 10 percent over last year and a record for daily railway transportation during the annual holiday, also known as Qingming Festival.
More than half of the trips on that day were on tracks managed by Beijing (1.31 million), Shanghai (2.63 million) and Guangzhou (1.75 million).
CRC said 12.5 million trips were expected to be made on Tuesday, as most travelers returned home.
Tomb Sweeping Day is a traditional holiday when Chinese people honor and memorialize their ancestors.
Local railway authorities took varied measures to cope with the travel rush. The main station in Shenyang, Liaoning province, installed facial recognition machines, while the biggest station in Changchun, Jilin province, installed 65 automatic ticket pickup machines and eight automatic machines to check tickets, while opening eight manned ticket-checking windows.
The railway authority in Shandong province opened group registration windows at stations in Qingdao, Taian and Qufu-all popular tourist destinations-to cut waiting times for group travelers.
More short-distance services were set up for those who did not want to travel far from home, said Xiu Haibo, head of passenger services at Qingdao Railway Station.
"It is not realistic to go too far during a long weekend. Travelers prefer to go to near-by cities to relax," she said. "During Qingming Festival, short-distance services also benefit travelers who head home to honor their ancestors."
With the arrival of spring, some railway bureaus also opened tourist routes.