Squaring the preservation-modernization circle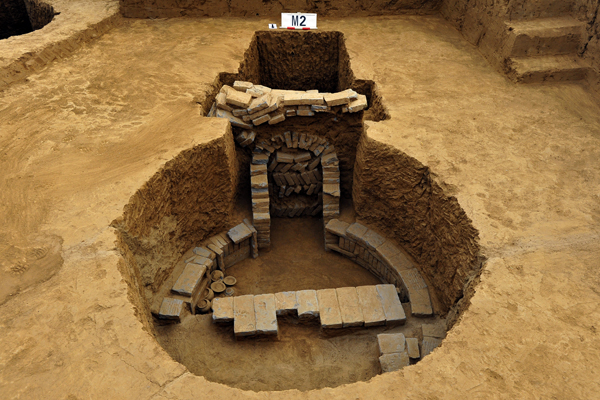 A tomb from the Liao (916-1125) and Jin (1115-1234) dynasties.[Photo provided to China Daily]
The contradiction between the construction of modern cities and the protection of cultural relics has long posed challenges for urban planners, but Beijing has set a good example of squaring the circle with the planning of its new sub-city center in Tongzhou district.
The area, located in the east of the city, has been chosen as the capital's new administrative center, which has necessitated the construction of a raft of office blocks.
On Jan 9, a meeting of the municipal government decided to protect and preserve the recently excavated Lucheng ancient city, which dates back to the Han Dynasty (206 BC-220 AD), by building a heritage park around it.
"Beijing will include the ancient city and the preservation of other cultural relics in the planning process for the construction of the new sub-city center," said Shu Xiaofeng, head of the Beijing Municipal Administration of Cultural Heritage.
Shu said the rising cost of compensating people for leaving their homes in historic buildings has become the biggest obstacle to the protection of cultural relics. However, the administration will make every effort to continue its work, despite the difficulties presented by interested parties, such as property developers.
The remains of the ancient city were unearthed last year during an archaeological survey conducted in advance of construction work beginning in Tongzhou, and it is one of the focuses of the capital's cultural-relics preservation work this year.
Shu said the administration will begin preliminary work for the construction of the heritage park later in the year.
According to an official document outlining the development plan for the capital's cultural center during the 13th Five-Year-Plan (2016-20), the city will establish three "cultural belts" - called the Great Wall, Canal and Xishan Mountain - in the Beijing-Tianjin-Hebei cluster.
"We will protect the relics within the three cultural belts, with the aim of improving both the local economy and people's lives through a range of methods," Shu said. "How to translate the preservation work into social benefits is a problem that we need to research."
He said the administration has limited capital, so it was helpful that other municipal departments participated in the process and provided support.
For example, the development of Gubeikou, a county in the north of the capital, involved cultural-relics protection departments and the transportation, tourist and economic-planning authorities.