Painting pictures through the pain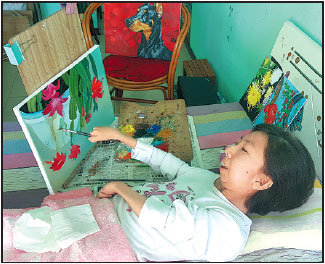 Zhang makes an oil painting in bed at home near Taiyuan, Shanxi province. [Photo by Sun Ruisheng/China Daily]
Artist who has been bedridden for 30 years finds solace in her work
With her withered limbs and meager muscles, Zhang Junli looks more like a sickly teenager than a 39-year-old.
She has chronic infectious arthritis, an uncommon condition that had paralyzed her by the time she was 9.
For the past three decades she has been bedridden, but despite being barely able to lift a paintbrush, she has spent that time perfecting her art.
Zhang has created thousands of pencil sketches and watercolors, hundreds of oil paintings and has even written two books: a full-length novel called The Blazing Girl and an autobiography titled My Existence.
Born in a village near Taiyuan, North China's Shanxi province, in 1978, she first showed symptoms of the condition that would later take away her mobility at age 6.
Her parents, rural middle school teachers, could barely afford the medical bills and exhausted almost all their savings paying for their daughter's treatment.
"One day, when I was 9 years old, I woke up and had piercing pain in all my joints," Zhang said.
"I found I could not move my body. The pain has accompanied me ever since. It even keeps me awake at night sometimes."
Due to her condition, regular schooling was not an option. She did try to attend the village primary school at first, but dropped out after six months because she found the physical act of attending class agonizing.
Treatments prescribed by village and county doctors did little to alleviate Zhang's symptoms, so she stayed at home, in bed, and taught herself painting, as her parents taught her the basics of reading, writing and arithmetic.
"I know my parents wanted a boy when they had me, but they always treasured me, even after I got sick," she wrote in her autobiography.
"Despite that, for a long time, I was very depressed. Sometimes, I felt I was on the brink of collapse."