Shanghai landmarks go dark for Earth Hour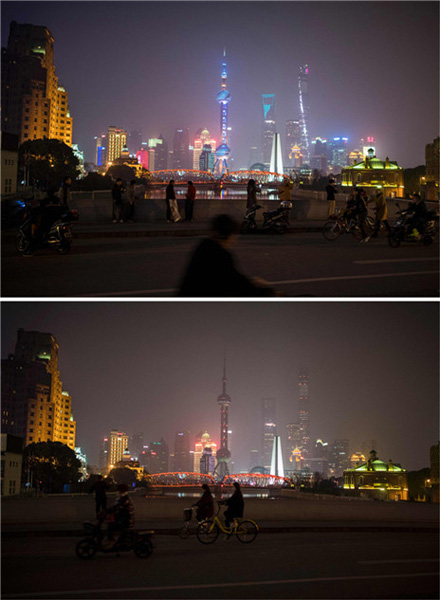 A combo picture shows Shanghai before (top) and during Earth Hour, March 25, 2017. [Photo/VCG] MORE PHOTOS
Many landmark buildings in Shanghai, including the 632-meter Shanghai Tower-China's tallest building-as well as the World Financial Center and Oriental Pearl Tower, turned off their lights for an hour on Saturday as part of a global effort to draw attention to climate change.
The Empire State Building and United Nations headquarters in New York joined other iconic buildings and monuments around the world by plunging into darkness for 60 minutes.
The Eiffel Tower, the Kremlin, the Acropolis in Athens and Sydney's Opera House also dimmed their lights as millions of people from some 170 countries and territories were expected to take part in Earth Hour, the annual bid to highlight global warming caused by the burning of coal, oil and gas to drive cars and power plants.
The event, which originated in Sydney, has grown to become a worldwide environmental campaign, celebrated across all continents.
Earth Hour moved from Australia westward through Asia, with many of the skyscrapers ringing Hong Kong's Victoria Harbor going dark in solidarity, while at Myanmar's most sacred pagoda, the Shwedagon, 10,000 oil lamps were lit to shine a light on climate action.
The lights of the Eiffel Tower in Paris, France's best-known symbol, were switched off for five minutes at 7:30 pm and the Burj Khalifa tower in Dubai, the world's tallest building, went dark for an hour.
London's Big Ben, the Houses of Parliament and London Eye giant wheel followed suit, among 270 British landmarks that switched off.
In Singapore, around 200 organizations, including buildings along the city-state's iconic skyline, went dark to mark the occasion. Organizers said around 35,000 people watched performances and participated in a "carbon-neutral run" that saw some runners in panda and tiger costumes to raise awareness of wildlife protection.
And in Japan, Tokyo's famed Sony Building in Ginza extinguished its bright lights to honor the occasion.
AFP