Tourists get out of car in Tiger Area at Beijing Wildlife Park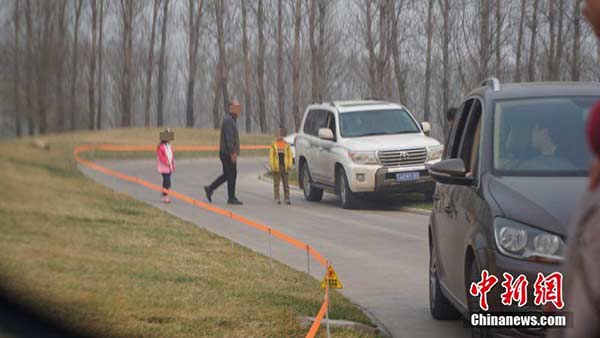 A man and two children get out of their car and walk on the road on a safari-style tour in the Beijing Wildlife Park, March 19, 2017. [Photo/Chinanews.com]
At least 5 tourists from one family got out of their vehicle for over 2 minutes in the Tiger Zone of Beijing Wildlife Park on a safari-style tour Sunday morning, despite park officials' dissuasions. No injuries or casualties have been reported, the park confirmed on the same afternoon.
On March 19, an alleged witness posted pictures online, saying one man and two children got out of a car in the waterfowl enclosure of Beijing Wildlife Park. Park officials nearby tried to persuade the people not to get out of the car while in the park, but the family again stopped the vehicle in the tiger enclosure, with at least 5 persons standing outside of the SUV for over 2 minutes.
An officer of Beijing Wildlife Park, whose surname is Jiang, confirmed the incident later on Sunday afternoon, reporting no injuries or casualties.
According to the Park's announcement, the family got off their car in the Tiger Zone at around 10:20 a.m. on March 19. After about 2 minutes, the duty manager arrived and finally succeeded in persuading the family to get back in their car and get on with their visit.
The Beijing Wildlife Park has set up trenches and a grid system to ensure visitors' security. Getting out of a car is explicitly prohibited for a safari-style tour. Park officials guarding at every tourist site will also remind the sightseers to stay in their vehicles, Officer Jiang told journalists from Beijing Youth Daily.
Similar recent incidents at wildlife parks have triggered public uproar over the past few months.
In July of last year, a 32-year-old woman who left her vehicle in the Beijing Badaling Wildlife Park was attacked by a tiger, resulting in serious injury to her and the death of her mother. The older woman got out of the car to attempt to save her daughter from the tiger.
Early in February, again in the Beijing Badaling Wildlife Park, a car was reported to be surrounded by bears after a child inside opened a window, which is forbidden by the park.
Most netizens side with the zoo, criticizing those who violate park rules and ignore warning signs.