Police move to tackle rise of 'white-collar' drug producers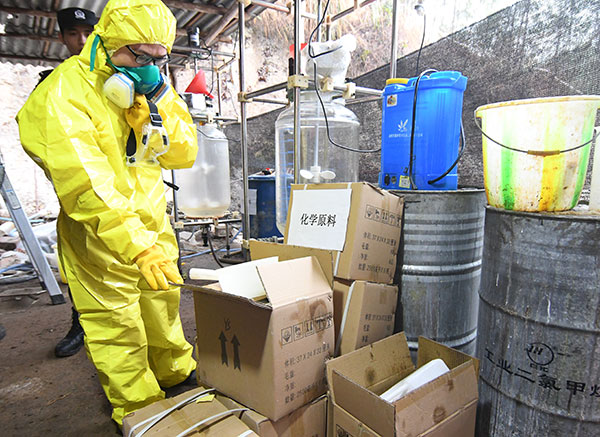 Police officers inspect confiscated drugs worth 30 million yuan ($4.3 million), including 1.7 metric tons of methcathinone, in Nanning, the Guangxi Zhuang autonomous region, in January.Song Bingjia / For China Daily
In a development that echoes TV's Breaking Bad, some Chinese chemistry professionals have begun producing and selling illegal substances. Zhang Yi reports.
The manufacture and distribution of illegal narcotics is undergoing a transformation in China.
While a large part of the problem remains the involvement of criminal gangs and street thugs who control the localized trade, the emergence of sophisticated labs and international distribution networks set up by white-collar entrepreneurs is presenting a new challenge for the authorities.
At present, the most abused illicit drug in China is methamphetamine, also known as "ice". In 2015, methamphetamine was available at about 50 to 100 yuan ($7 to $14) per 0.1 gram, according to the Beijing police authority. At the end of the same year, there were 2.3 million registered drug users in the country, official data show.
In June last year, Wang Hua, a chemistry graduate who attended the prestigious Peking University in Beijing, was arrested for producing methcathinone, a highly addictive stimulant drug known by street names such as "meth cat", "jeff", or "bathtub speed".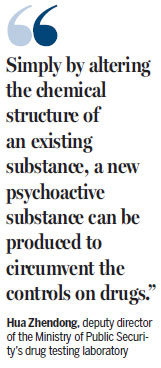 In 2005, the recreational drug, which produces a similar effect to methamphetamines or amphetamines, was included in the list of controlled substances by the China Food and Drug Administration.
In April 2014, in a move that has echoes of the global TV hit Breaking Bad, Wang quit his job at a pharmaceutical company in Shanghai and set up his own company in Huanggang, Hubei province. The 30-something put his cousin in charge of methcathinone production and asked his wife to purchase the raw materials and liaise with buyers.
Wang was found to have mailed 630 kilograms of methcathinone, stashed in the tubes of light-emitting diodes, to buyers overseas through courier services. The Hubei police seized 55 receipts for sales between Oct 1, 2015, and June 8 last year, which generated an estimated profit of more than 10 million yuan.
Third generation
Wang is just one in a long line of chemistry professionals who are producing new psychoactive substances, also known as NPS, a type of illicit narcotic regarded in China as "third generation" drugs.
The United Nations Office on Drugs and Crime defines the new drugs as "substances of abuse, either in a pure form or a preparation, that are not controlled by the 1961 Single Convention on Narcotic Drugs or the 1971 Convention on Psychotropic Substances, but which may pose a public health threat".
The NPS are easily synthesized in labs, rather than being obtained via natural sources such as opium poppies, which means production costs are far lower, said Hua Zhendong, deputy director of the Ministry of Public Security's drug-testing laboratory.
The lack of regulation has led to these new narcotics becoming known as "designer drugs", "legal highs", "herbal highs", "bath salts", "research chemicals" and "laboratory reagents".
The new drugs mimic the effects of controlled substances, such as cannabis, amphetamines or heroin, and are sometimes traded alongside them as the makers exploit loopholes in drug control legislation.