Beijing moves into all clean energy era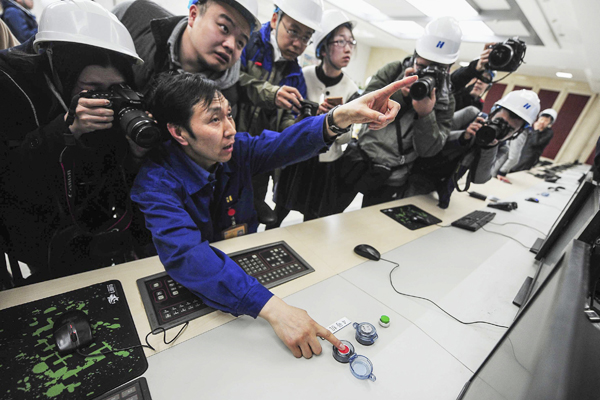 Unit supervisor Liu Yong of Huaneng Group shuts down the last coal-fired power plant in Beijing on Saturday. [Photo by Yuan Yi/For China Daily]
Beijing shut down its last large-scale coal-fired power plant on Saturday, meaning that the capital now uses only clean energy for all electricity and heating.
The measure, which was announced in the municipal government work report released in January, is part of the city's efforts to reduce carbon emissions and improve air quality.
The power plant, located in eastern Beijing, is owned by Huaneng Group, one of China's top-five power generation companies. With an installed generation capacity of 845,000 kilowatts, the 18-year-old plant provides heating for an area covering 30 million square meters in southeastern Beijing.
"Replacing coal with clean energy is not only to deal with air pollution but also a requirement of the company's transformation," said Cai Qi, mayor of Beijing.
Cai said a new power plant that will use natural gas as fuel is under construction and will start operating soon, adding that the municipal government will provide support to the company during transition.
According to Huaneng Group, the shutdown of the plant will cut coal consumption by 1.76 million metric tons a year, and reduce sulfur dioxide emissions by 91 tons, oxynitride emissions by 285 tonnes and dust by 110 tons.
Du Chengzhang, head of Huaneng Beijing Thermal Power Plant, the owner of the coal-fired plant, said the company completed the construction of the second phase of a thermal power plant that uses natural gas as fuel in December 2011. It began operating during the 2012-13 heating season, and the third phase will get a test run in June.
"Providing green energy has been the company's aim for years," Du said.
Beijing has shut down four major large-scale coal-fired plants in recent years.
Under the government's plan for clean air from 2013 to 2017, Beijing's total coal use should be 13 million tons less by the end of this year, compared with 2012. Following the shutdown of the four coal-fired power plants, annual coal use has been reduced by about 8.56 million tonnes, which accounts for nearly 70 percent of the reduction target.