Guangxi prioritizes health resources
China's "home of longevity" will focus on tapping its health-related resources in the next three years to spur economic growth and contribute to improving the health of Chinese in other areas, officials in the Guangxi Zhuang autonomous region said on Monday.
"With rapid economic and social development, health is gaining more attention," said Huang Weijing, vice-chairman of Guangxi.
"Development of the health industry is an urgent requirement to help meet increased demand and improve people's livelihoods."
To boost such development, Guangxi will carry out a three-year plan that includes 388 major projects with a total investment of 212 billion yuan ($30.7 billion), Huang said.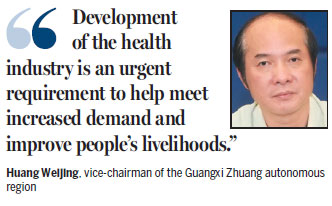 Owing to its natural environment, and clean soil and water, Guangxi has long been regarded as a place of longevity, he said.
The number of cities and counties in Guangxi considered locations of longevity by the Gerontological Society of China has reached 26, accounting for more than one-third of China's total, Huang said.
In Guangxi, there are 123 centenarians for every 1 million permanent population, making it one of China's regions with the most centenarians, he said.
According to the three-year plan, the health industry's output in China is expected to increase by more than 10 percent every year, with the total value of Guangxi's health output reaching 400 billion by 2020, accounting for 16 percent of the regions' GDP and becoming a new pillar industry of the region, according to Han Qingdong, deputy director of the regional development and reform commission.
Projects to be carried out will cover areas such as healthcare and eldercare, healthy food and traditional Chinese medicine, and industries that integrate healthcare and tourism, Han said.
Of the 388 projects, 91 will involve healthcare and eldercare, he said, adding that the regional government will carry out preferential tax policies and provide financial subsidies for investors.
Zeng Fanming, a social welfare official with the civil affairs department of the region, said the government has made significant progress in developing healthcare and eldercare in the past few years. He said that Guangxi had become China's first region to implement pilot plans for reforming eldercare services.
A key measure of the reform is to encourage the development of "migrant eldercare" services in the region, he said.
With a rapidly aging population, China has been focusing on the development of the healthcare and eldercare industries.
More than 90 percent of Chinese will be covered by eldercare insurance by the end of 2020, and more than 95 percent of all Chinese will be covered by basic medical insurance by 2020, according to a national plan released by the central government earlier this month.
The number of people above the age of 60 in China reached 222 million by the end of 2015, accounting for more than 16 percent of the total population. According to a report by the Social Sciences Academic Press in December 2016, the figure will reach its peak over 400 million by the middle of this century.