Surgeons, donor give disfigured man hope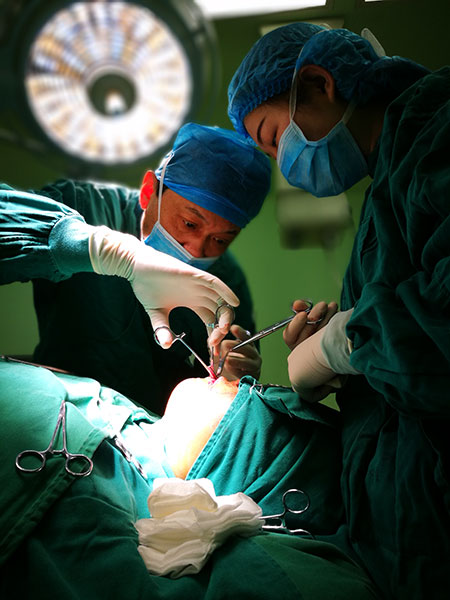 Doctors in Wuhan perform surgery on Zhao Xuecheng, who was badly burned as an infant.[Tong Liang/For China Daily]
Doctors in Wuhan, Hubei province, thanks to a donation from an Italian businesswoman, have successfully performed the first surgical procedure on Monday to help a man whose face was burned and disfigured 22 years ago when he was an infant.
After the surgery, Zhao Xuecheng, 22, can open his mouth wider, freeing him from the restriction caused by a tightened burn scar.
Previously, "most of his food had to be torn up into smaller bits before he could eat," said Li Xianyu, Zhao's adoptive mother.
Angelina Graziella Fedele, founder and CEO of a pharmaceutical company based in Hong Kong, pledged 200,000 yuan ($28,900) to help Zhao get the surgeries.
Li and Zhao Liniu, Zhao Xuecheng's foster parents from Xiangyang, Hubei province, now in their 60s, adopted him as a baby after finding him, disfigured by burns and abandoned in bushes, in January 1995.
Though struggling to make ends meet, the couple decided to look after Zhao, who gradually recovered. But as the couple grew older, they worried about the future for Zhao, who couldn't find a job due to the disfigurement.
Using their entire savings of 30,000 yuan, they took Zhao to Chongqing for surgery in January. The results weren't as good as expected, and there was no more money left.
Meanwhile, a China Daily story about Zhao's surgery in Chongqing caught the eye of Fedele. A spokesman at Fedele's company said that after reading about Zhao's plight, the Italian entrepreneur talked to Xie Weiguo, head of Wuhan Third Hospital's burn department, and asked about the possibility of restoring the young man's face.
Xie said the prospects were good and estimated the medical bill would be 200,000 yuan. Without hesitation, Fedele decided to help.