HK launches 1st sightseeing restaurant bus to promote tourism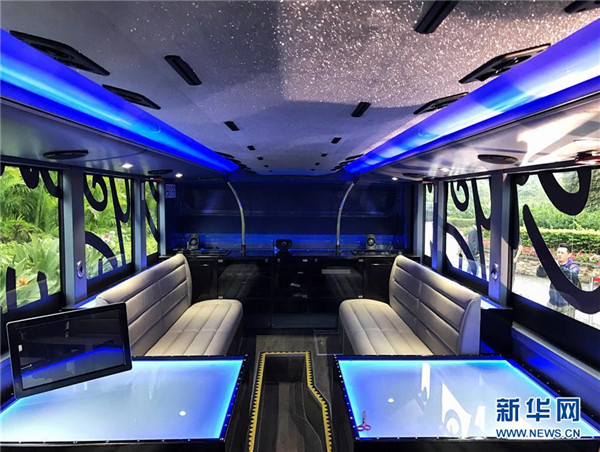 A photo taken on March 14 shows the inside of the bus'lower decker. [Photo/Xinhua]
HONG KONG - Hong Kong's first sightseeing restaurant bus went into service Wednesday, offering tourists and locals a fresh experience of sightseeing and dining.
"(For tourists,) there is now no need to plan where to go or worry about where to eat, sparing time for shopping," Thomas Hung, chairman of the operator Crystal Bus Holding Limited, said at a launching ceremony on Tuesday.
Hung said Crystal Bus "combines concepts of tourism and catering, allowing tourists to enjoy local cuisine while experiencing Hong Kong's most representative attractions."
The sightseeing restaurant bus is a 47-seat double-decker furnished with wonderful lighting and sound systems. It tours around the city while serving food prepared by locally famous and Michelin starred restaurants.
Its service comprises day and night tours, with day tour covering over 20 attractions from Kowloon to Hong Kong Island or to the New Territories.
The two-and-a-half-hour day tour costs each passenger 380 HK dollars ($48.9).
Night tours are only for booking out the entire bus and guests can choose the route for themselves.
Prices for a five-hour such service is 8,800 HK dollars ($1,132.7) from Monday to Thursday and 12,800 HK dollars ($1,647.6) for weekends and the eve of public holidays.
Like regular sightseeing buses, Crystal Bus has an audio guide system, providing passengers with information about the attractions in Chinese and foreign languages.
"In addition to offering tourists a new way of experiencing Hong Kong, Crystal Bus also provides local residents with a fresh idea for a date or gathering with friends," Hung added.