'All-in-one card' opens many doors for tourists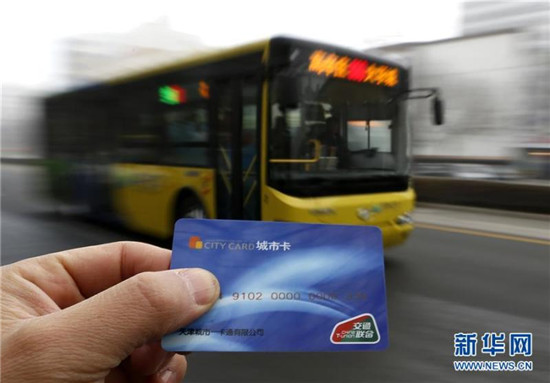 On Dec 25, 2015, the "all-in-one card" for Beijing-Tianjin-Hebei transportation was put into operation.[Photo/Xinhua]
An "all-in-one card" for the Beijing-Tianjin-Hebei tour has attracted more than a million users since it was put into use six years ago.
"After the integrated development of Beijing, Tianjin and Hebei was initiated three years ago, the number of cardholders increased to one million from 100,000," Wang Jinhu, CEO of "all-in-one card" Department of Langfang Zhonghong Tourism Planning Service Co Ltd said, adding that the national policy has greatly promoted tourism integration in the region.
The company initiated the card in cooperation with China Construction Bank.
With the card, holders can enjoy discounts at different levels when buying tickets for scenic spots, and paying for food and hotels in the region, according to Shi Wei, head of the marketing department of the company.
Issued by China Construction Bank, the card also has the basic function of a regular bank card, which means users can withdraw and deposit money through it.
Cardholders can use the card with discounts at more than 200 scenic spots in Beijing, Tianjin and Hebei province, such as the Beijing Lingshan Mountain.
For a tour at the Lingshan Mountain, tourists using the card can get a 20 percent discount for its tickets, and 0.5 percent discount for restaurants and hotels inside the scenic zone.
Other scenic spots include the Songshan Forest Park in the Yanqing District of Beijing, Panshan Mountain in Tianjin, as well as Wuzhishan Mountain in Handan and Hengshui Lake in Hengshui of Hebei, etc.
The card's range of application is being expanded across the country, Shi said.
As of now, many scenic spots in Chifeng in Inner Mongolia autonomous region, and in Qingdao and Dezhou in Shandong province have started using the card.
"We are trying to promote it in all cities of the country," she said.
Besides, the card's function is being diversified.
According to Wang Jinhu, the card can be used to take bus and subway in some cities, and to drive through electronic toll collection systems on highways in Hebei.
"We are working to integrate multifunction into the card."