Girl's relatives sought to cure blood disorder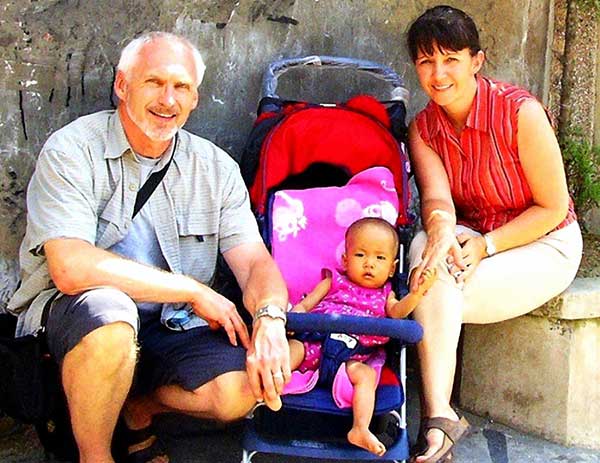 Greg and Cathy Crowell of Canada are shown with Hosanna, an abandoned child they adopted from a welfare house in Guizhou province in 2007.[Photo provided to China Daily]
Canadian foster parents search for abandoned child's family members
Local authorities in Southwest China's Guizhou province began a search on Friday for possible siblings of a girl who was abandoned about 10 years ago and was later adopted by a Canadian couple.
If they succeed, it means the girl will have a good chance of curing her disease through a bone-marrow transplant.
The girl, named Hosanna, was left alone on the doorsteps of Tianzhu county police station at dawn on May 6, 2007, according to the county's police department. When they failed to find her parents, the police sent her to a local welfare house, where she was named Chen Fupei and given a presumed birthday that made her 1 year old.
Greg Crowell and Cathy Crowell, a couple who are now in their 50s and already had four children, adopted the pale-looking girl from the welfare house later that month, knowing that she had a disease.
They gave her a new name. "We called her 'Hosanna', which is Hebrew for 'savior'," Cathy Crowell said.
They took her to Guangzhou, capital of Guangdong province, where pediatric doctors from Nanfang Hospital affiliated to Southern Medical University diagnosed her with severe beta thalassemia, a hereditary blood disorder resulting from the poor ability of red blood cells to carry oxygen.
Following doctors' advice, Hosanna has spent her life receiving blood transfusions every two to three weeks, as well as daily injections to remove excessive iron from the transfusions.
"Every night she needs to be given an injection," Cathy Crowell said. "It is all very difficult for her."
"Hosanna can survive with blood transfusions, but she will need them for her entire life," she added.