World's largest radio telescope opens its doors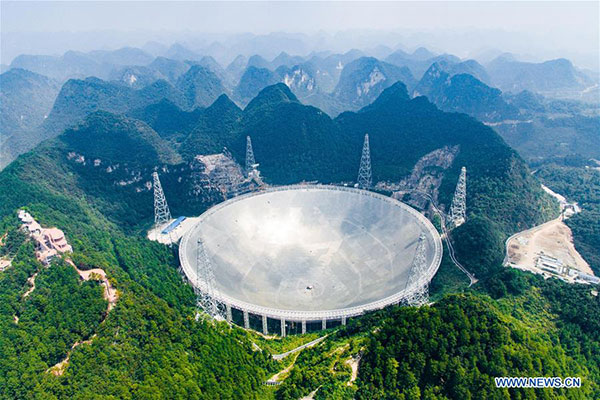 Photo taken on Sept 24, 2016 shows the 500-meter Aperture Spherical Telescope (FAST) in Pingtang county, Southwest China's Guizhou province. [Photo/Xinhua]
The world's largest radio telescope in China has opened to visitors.
The Five-hundred-meter Aperture Spherical Telescope at Pingtang county in Southwest China's Guizhou province can accommodate a maximum of 2,000 visitors a day.
Visitors are not allowed to bring electronic equipment, including smart phones within 5 kilometers of the telescope, as "noise" from such equipment interrupts readings.
Completed in September last year, FAST is designed to observe space and look for extraterrestrial life. It has a reflector as large as 30 soccer pitches, making it the world's largest radio telescope.