Home / China / Innovation
Chinese scientists create 4 synthetic yeast chromosomes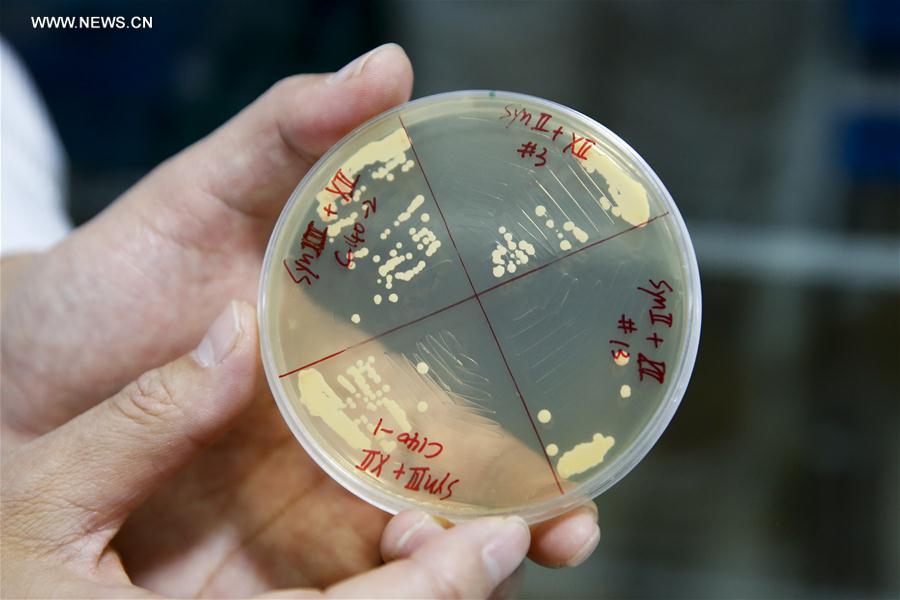 Dai Junbiao, head of Tsinghua University's research team, shows the yeast in the laboratory of Tsinghua University in Beijing, March 9, 2017.[Photo/Xinhua]
BEIJING - Chinese scientists have assembled four synthetic yeast chromosomes, making China the second country capable of designing and building eukaryotic genomes following the United States.
The findings were published in Friday's edition of journal Science, marking a step closer to building synthetic life.
In the study, researchers with Tianjin University, Tsinghua University and BGI-Shenzhen construct the synthetic active eukaryotic chromosomes through exactly matching the synthetic genome with the designed sequence for the first time.
"If genome sequencing is reading the code of life, then genome synthesizing is writing the code of life. From reading to writing, it is a breakthrough," said Yang Huanming, an academic with the Chinese Academy of Sciences.
In 2010, U.S. scientists succeeded in implanting a synthetic genome in a prokaryotic bacterium, marking the first step in chemical synthesis of live organisms.
"The latest study has addressed fundamental problems in synthesizing unicelluar eukaryotic organisms, laying a foundation for future design and building of more complex cells of multicelluar organisms, including animals, plants and fungi," said Yuan Yingjin, a professor with Tianjin University.
The new effort is part of a larger project to redesign and reengineer yeast chromosomes, called the Synthetic Yeast Genome Project, which several research institutes participated in, including those in China and the United States.
Brewer's yeast has long served as an important research model because their cells share many features with human cells, but are simpler and easier to study.
"Synthetic yeast chromosomes will facilitate studies on chromosome abnormity and repair of the genome, providing models for research and treatment of present medical challenges such as epilepsy, cancer, mental disability and aging," Yuan said.
According to the researchers, synthetic biology will provide solutions to global problems, including energy shortages and pollution.
For example, with development in technology, modified brewer's yeast with synthetic chromosomes will help produce food and energy of various kinds and lower cost through fermentation one day, Yang said.