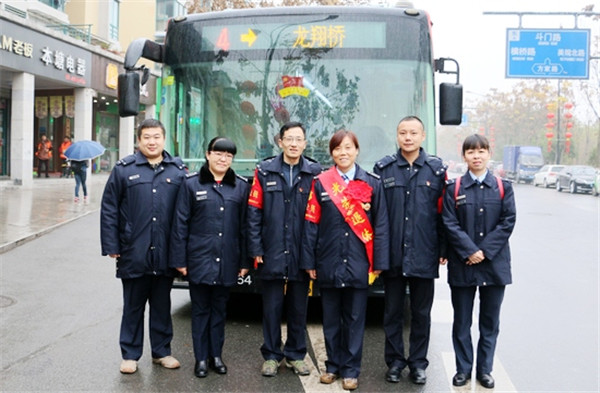 Yu Chun (third from right) and her colleagues pose for a photo in front of the bus she drove for 28 years on the day of her retirement. [File photo from web]
Hangzhou impressed the world with its cashless urban life when it played host to the G20 summit last year. Now an NPC deputy from the city has proposed at the ongoing annual two sessions in Beijing that the success should be replicated across the country.
Yu Chun, a 50-year-old retired bus driver in Hangzhou, capital of East China's Zhejiang province, is one of those deputies who pay close attention to how a policy can be used to bring far-reaching changes through digital payment.
Yu said in her suggestion that the foundation for cashless society is already solid in the nation as the value of third-party mobile payment reached 38 trillion yuan ($5.5 trillion) in China in 2016.
As a former bus driver, she is the best person to explain how convenient a cashless life is. In her 28-year-long career, she saw many passengers fumbling and looking for coins. "I usually collected 500 to 600 yuan in fares in one shift, but most of the money was in coins," she said.
According to her, it's very inconvenient to pay by cash, especially by coins, not only for passengers but also for the bus operators. "The bus companies collect tons of coins and counting them is not easy to say the least."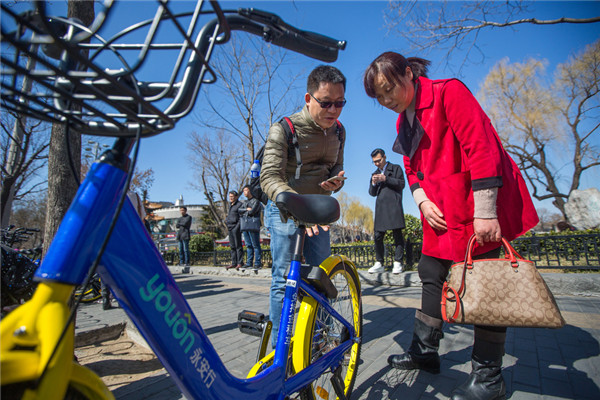 Yu Chun, an NPC deputy from Hangzhou, inquires about bike-sharing service during the two sessions in Beijing, March 9, 2017. [Photo/VCG]
Yu's suggestion not only comes from her own experience, but also is based on her research. During her stay in Beijing, she went around the capital to see and experience firsthand the application of mobile payment.
After her "field tour", she became even more confident in the soundness of her suggestion. "A cashless life is more ubiquitous in many cities. I believe that people living in remote and border areas should also have a chance to lead such a convenient life."
"Although my career as a bus driver has ended, my passion and my responsibility to serve the people will never come to a stop," she said. Yu has been awarded several times for her service and dedication to her job. Of the nearly 3,000 NPC deputies this year, about 14 percent are farmers and workers like Yu, a 5 percentage point jump from the 11th NPC.