Preserving panda shifts to quality over quantity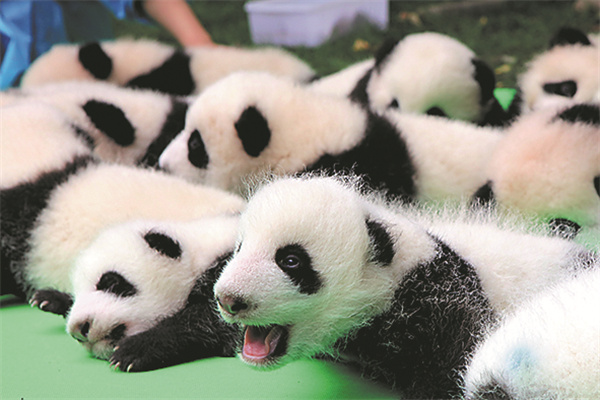 Pandas born at the Chengdu Research Base of Giant Panda Breeding meet the public. SHE YI / FOR CHINA DAILY
One of the biggest jobs of "panda mama" Hou Rong in the past two decades was to increase the number of pandas as much as possible.
But success soon will bring changes. After the total number of captive pandas reaches 500, China will put greater emphasis on increasing the quality of the stock, said Hou, director of the Research Center of the Chengdu Research Base of Giant Panda Breeding. Hou, an NPC deputy, spoke on the sidelines of the ongoing two sessions.
"Now it is not difficult to get pandas to reproduce. At our center, almost all baby pandas survive, as long as they are healthy at birth," said Hou, nicknamed "panda mama" after making several breakthroughs in China's panda breeding technology.
There are now 471 captive pandas in China, Hou said. The figure was 375 at the end of 2013 when China conducted its latest national survey, while the total number of wild pandas at the time was 1,864.
"After reaching the goal (500), we might maintain the current growth rate, or lower it properly," she said.
"We will turn to improving captive pandas' genetic quality. In other words, we will fully protect panda biodiversity. Captive pandas will get stronger, have better reproductive capabilities and survive better when they are sent back to the wild."
A similar shift has taken place at the Wolong National Nature Reserve in Sichuan province, according to an official who declined to be named.
"We have been shifting the focus from quantity of pandas to quality for some time now. I think more panda breeding teams across the country will follow this trend."
To reach that goal, the first step is to avoid inbreeding, which lowers the quality of the breeding stock. The next step is to encourage the breeding of pandas that carry valuable genetic information while limiting breeding by those that already have had too many offspring, Hou said.
"This is a phase that we scarcely could have imagined years ago," she said. When she started working at the center in 1994, there were few pandas there and one-third were sick.
A larger project is the building of a giant panda national park, which has been approved by the central government. The park will include parts of Sichuan, Shaanxi and Gansu provinces.
Hou said wild panda habitat is now split into 33 parts that are not all interconnected. In some small habitats with limited groups of pandas, the genetic quality tends to fall, which can result in the animal's dying out in those areas.
"That is the major threat for wild pandas. And we are making big plans to link the major habitats with green passages through ecological restoration." That way, a panda living in Sichuan might have offspring with a panda originally from Shaanxi, she said.
Contact the writer at lixiaokun@chinadaily.com.cn