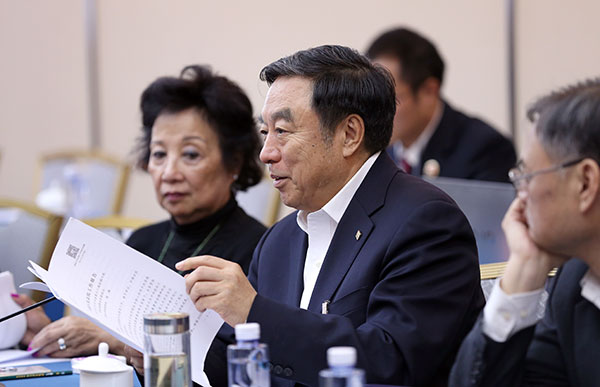 Ma Weihua, a CPPCC National Committee member and a well-known banker, refers to the Work Report of the Supreme People's Court during a group discussion at the ongoing two sessions in Beijing on Sunday.Zou Hong / China Daily
National lawmakers and political advisers have engaged in heated discussions during the ongoing two sessions over draft general provisions of civil law - new statutory language that would lay a foundation for the protection of civil rights in China.
Some of its clauses reflecting socialist core values have been widely applauded. Others - including hot issues such as the protection of personal information - are still being worked out.
The draft, if adopted on March 15 at the conclusion of the annual plenary session of the National People's Congress, will represent the first step in the formulation of a broad Chinese Civil Code, which is expected to be complete by 2020.
The draft addresses such core values as justice, equality and amicability, and it responds to many concerns in society, legislators said.
For example, the draft stipulates that good Samaritans are not liable for minor injuries inadvertently inflicted on a person they help during an emergency. However, liability remains in the current working version of the draft for a case in which a helper inflicts great harm.
Shi Jie, a lawyer from Sichuan province and a political adviser, suggested that good Samaritans should be fully protected.
"We shouldn't assume helpers have rescue knowledge. I think it's better to set up special government funds to compensate people injured while being helped," he said, adding that such funds would further encourage rescuers to save others without hesitation.
Xu An, an NPC deputy from Jiangsu province, said protecting good Samaritans in some fashion will encourage people to help others - and as such is important in upholding China's traditional values.
China established a set of core socialist values in late 2012. They include the national goals of prosperity, democracy, civility and harmony; the social goals of freedom, equality, justice and the rule of law; and individual values of patriotism, dedication, integrity and friendship.
Another clause in the draft, which clarifies one's obligation to look after and protect parents, was applauded by Li Jing, an NPC deputy who serves as a judge in Hubei province.
"It's good to see this virtue - filial duty - upheld by giving it legal status," Li said. "It will better comfort senior citizens, and it's consistent with the pace of China's aging society."
Apart from the stipulations that reflect traditional Chinese values, some rules addressing new problems, such as the protection of personal information, have also received wide attention.
It's necessary for the general provisions of civil law to highlight the protection of personal information as a basic principle because "it relates to everyone's private rights and property", said Yang Daya, an NPC deputy.
Zheng Shanglun, a national legislator and a police officer from Chongqing, said the new entry will help safeguard personal information and aid in the fight against fraud.
More than 7,600 organized telefraud rings were broken up last year across the country, according to the Ministry of Public Security.